"
At some point during surgical residency, most interns get a sense of who they are as doctors and the kinds of surgeons they are going to become. If you ask them, they'll tell you they are going to be general surgeons, orthopedic surgeons, neurosurgeons. Distinctions which do more than describe their area of expertise, they help define who they are, because outside the operating room, not only do most surgeons have no idea who they are, they're afraid to find out.
"
What I Am is the fourth episode of the third season and the 40th overall episode of Grey's Anatomy.
Short Summary
Edit
Dr. Mark Sloan joins the staff as the new head of Plastic surgery and instantly rubs up against everyone. Addison is distracted and her medical judgment compromised by Mark's arrival, and similarly, Derek is also distracted, but clears Burke for surgery. Izzie meets with Denny's father, who is also named Denny and who reveals a bombshell for Izzie. Meredith's policy on dating two men is getting to her, and the interns and Bailey suspect she's pregnant. However, it turns out to be appendicitis. Meredith is put on morphine for the pain, and hilarity ensues, but not for everyone around her.
Full Summary
Edit
Episode in detail.
Main Cast
Edit
Special Guest Stars
Edit
Guest Stars
Edit
Co-Starring
Edit
Uncredited
Edit
Medical Notes
Edit
Bailey's Patient
Edit
Bailey was seen operating on a patient.
Callie's Patient
Edit
Callie was seen operating on a patient.
Derek's Patient
Edit
Derek was seen operating on a patient.
Diagnosis:

Brachial plexus injury
Tremor
Burke was progressing well in his physical therapy, but also had a tremor in his hand. Derek, not knowing about the tremor, cleared him to go back to work.
Shawn, 62, was two days post-op on minimally invasive heart surgery. He was all set to be discharged, but before that could happen, he smoked a cigarette and ignited his oxygen supply, causing burns to his face and a small hematoma to his occipital region. Mark made a plan to treat the burns, but first called for a neuro consult. Derek recommended a day of observation before proceeding with burn treatment. Despite this recommendation, Mark operated immediately, removing the dead tissue and applying live cells. The hope was that they would take in a few weeks, but he was advised that his face wouldn't be the same as it was before.
Rebecca was at 8 cm dilation, but her baby was only at minus 3 station. Because she had a "natural birth plan," she refused a c-section. Later, the baby started having late decels and she was forced to have a c-section.
Derek's Other Patient
Edit
Derek invited Meredith to scrub in on an aneurysm clipping with him.
Meredith threw up at work, causing her and others to suspect that she was pregnant. However, when the test showed she wasn't, they diagnosed appendicitis and she was taken in for an appendectomy, which went well.
Song
Performer
Scene
"If Looks Could Kill"
Camera Obscura
"Standing In the Way of Control"
The Gossip

Meredith thrown up at work
Mark "Mcsteamy" entered to work
derek ask meredith wants to scrub in

"Back in Time"
Au Revoir Simone
"So:Lo"
Kate Havnevik
"Province"
TV on the Radio
"Fall for Nothing"
Mindy Smith
Notes and Trivia
Edit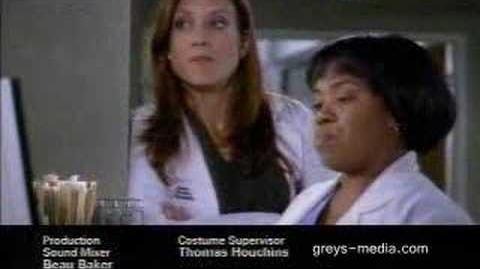 This episode's title originated from the song What I Am, originally sung by Edie Brickell & New Bohemians.
This episode scored 22.88 million viewers.
This episode marks the final appearance of Finn Dandridge.
The check to Izzie at the end of the episode reveals Denny's full name as Dennison.
Episode Stills
Edit
Cristina: Holy crap, are you pregnant?!
(everyone stops and stares and Meredith)
Addison: Oh great, an adulteress love child.
Derek: Goes along with an adulteress sociopath. (walking by her) Meredith!
---
---
Meredith: (to George) When I'm on the table, keep me draped. Too many people have seen me naked already. I'd like to keep whatever dignity I have left. (sees Mark) It's McSteamy. McSteamy! Yoo hoo!
Mark: McSteamy? That's what you're calling me now?
Meredith: Yes, but I don't think you are supposed to know.
Mark: How's my favorite dirty mistress?
Meredith: Haven't you heard? Now I'm an adulterous whore!
---
Denny: Dad, mom...It's me. I'm calling from Seattle Grace Hospital where the - the beautiful, talented and incredibly stubborn Dr. Isobel Stevens has, she's just given me a brand new heart and promised to marry me. I know we've had our differences and I'm sorry we've been out of touch. Believe it or not I was - I was trying to make everything better. I know you're angry and I hope you'll forgive me. It turns out, sometimes you have to do the wrong thing. Sometimes you have to make a big mistake to figure out how to make things right. Mistakes are painful, but they're the only way to find out who you really are. I know who I am now. I know what I want. I've got the love of my life, a new heart and I want you guys to get on the next plane out here and meet my girl. Everything's gonna be different now, I promise. From here on out, nothings ever going to be the same. I love you, bye.
| | |
| --- | --- |
| | A complete overview of this episode's crew can be found here. |
Ad blocker interference detected!
Wikia is a free-to-use site that makes money from advertising. We have a modified experience for viewers using ad blockers

Wikia is not accessible if you've made further modifications. Remove the custom ad blocker rule(s) and the page will load as expected.