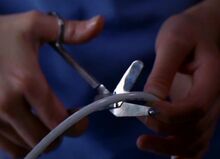 A ventricular assist device, or VAD, is a mechanical device that is used to partially or completely replace the function of a failing heart. Some VADs are intended for short term use, typically for patients recovering from heart attacks or heart surgery, while others are intended for long term use (months to years and in some cases for life), typically for patients suffering from congestive heart failure.
There is also a portable one for slightly stronger hearts but it does have its limits. It uses batteries.
Notes and Trivia
Edit
Ad blocker interference detected!
Wikia is a free-to-use site that makes money from advertising. We have a modified experience for viewers using ad blockers

Wikia is not accessible if you've made further modifications. Remove the custom ad blocker rule(s) and the page will load as expected.