Timothy Robbins was the brother of Arizona Robbins.
Relationships
Edit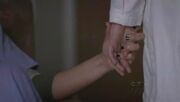 When Arizona came out to him, Tim asked if that meant she was going to marry a chick. When she said yes, he told her that he was going to dance so hard at her wedding. ("White Wedding")
Friendships
Edit
Timothy, Arizona, and Nick were friends throughout their childhood until Tim's death. ("Let the Bad Times Roll")
He was an Army Ranger. He died during his service because there weren't enough doctors in the field.
Notes and Trivia
Edit
Ad blocker interference detected!
Wikia is a free-to-use site that makes money from advertising. We have a modified experience for viewers using ad blockers

Wikia is not accessible if you've made further modifications. Remove the custom ad blocker rule(s) and the page will load as expected.