The Time Warp
Talk

0
1,449pages on
this wiki
The Time Warp
Season 6, episode 15
Miranda Bailey as an intern.
Episode Information
Airdate

February 18, 2010

Written by
Directed by
Episode Guide
Previous
Next
.
"I've seen a lot of surgery residents come and go in my time and they're all addicted to surgery. It comes before food, before sleep. It becomes the most important thing, the only thing. What they don't know is that living on that high can eat them alive. Some make it through they come out on the other side. They survive with their sanity intact. They become better doctors and stronger people. I didn't. I broke. I didn't kill anybody and I give thanks for that every day. But I hurt people. Scared the hell out of myself. I am 45 days sober today. I am Richard and I am a grateful and recovering alcoholic."
The Time Warp is the fifteenth episode of the sixth season and the 117th overall episode of Grey's Anatomy.
Short Summary
Edit
In his new role as Chief, Derek restores the hospital lecture series, and Richard, Bailey and Callie present to the group pivotal surgical cases from their pasts - Bailey reflects on her first days as a shy resident, Callie looks back on a polio case, and Richard recalls a case in which he and Ellis worked on a patient diagnosed with GRID, a virus later called AIDS.
Full Summary
Edit
Episode in detail.
Main Cast
Edit
Guest Stars
Edit
Co-Starring
Edit
Medical Notes
Edit
Song
Performer
Scene
"Always"
Switchfoot

Bailey gets ready for her speech
Arizona brushes vomit out of Callie's hair
Arizona reassures Callie that she'll do fine

"Maneater"
Hall & Oates
"Our Lips Are Sealed"
The Go-Gos
"When You Come Home"
Calahan
"Metropolis"
Faded Paper Figures
"Shape Up"
Total Babe
"Everywhere I Go"
Lissie
Notes and Trivia
Edit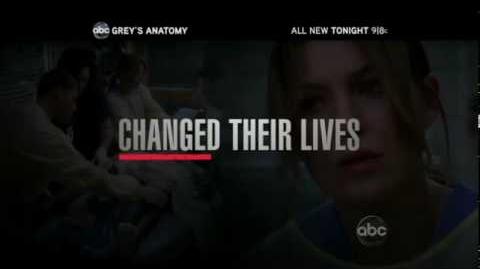 Episode Stills
Edit
Behind the Scenes
Edit
---
Richard: I solemnly pledge to consecrate my life to the service of humanity. I will give to my teachers the respect and gratitude that is their due. I will practice my profession with conscience and dignity. The health of my patients will be my number one consideration. I will respect the secrets that are confided in me, even after my patient has died. I will maintain by all the means in my power, the honor and the noble traditions of the medical profession. My colleagues will be my sisters and brothers. I will not permit considerations of age, disease or disability, creed, ethnic origin, gender, race, political affiliation, nationality, sexual orientation, social standing or any other fact to intervene between my duty and my patient. I will maintain the utmost respect for human life. I will not use my medical knowledge to violate human rights and civil liberties, even under threat. I make these promises solemnly, freely and upon my honor.