"
At some point maybe we accept the dream has become a nightmare. We tell ourselves that reality is better. We convince ourselves it's better that we never dream at all. But, the strongest of us, the most determined of us, we hold on to the dream or we find ourselves faced with a fresh dream we never considered. We wake to find ourselves, against all odds, feeling hopeful. And, if we're lucky, we realize in the face of everything, in the face of life the true dream is being able to dream at all.
"
The Other Side of This Life, Part 2 is the twenty-third episode of the third season and the 59th overall episode of Grey's Anatomy.
Short Summary
Edit
Addison is pulled into the case of a high-risk surrogate mother, Susan develops a complication, Izzie struggles with George's decision, and Ava has surgery that may restore her memory.
Full Summary
Edit
Episode in detail.
Main Cast
Edit
Special Guest Stars
Edit
Guest Stars
Edit
Co-Starring
Edit
Medical Notes
Edit
Ava had a brain bleed. Because of the location of the bleed, Ava had to be awake during the surgery. She was hopeful that she'd get her memory back as part of the surgery. In surgery, she began speaking other languages. When she started bleeding more seriously, they put her under to work on the bleed. After the surgery, which was successful, she was disappointed not to remember her past.
Diagnosis:

Fever
Heart murmur
Infection
Sepsis
Toxic megacolon with perforation
Treatment:

IV Antibiotics
Central line
Surgery
Susan came back to the hospital with a fever and a heart murmur. They ran tests. She was then given IV antibiotics and they put in a central line so she could keep getting antibiotics at home. She came back into the hospital with cramping. She became septic and was rushed into surgery. She started coding on the way to surgery and was pronounced dead in the OR.
Ava's Baby
Edit
Ava's baby was still in an incubator in the NICU.
Diagnosis:

Hormonal imbalance
Adrenal tumor
Paul had a hormonal imbalance, but Sam had to run more tests to figure out the cause. Paul had an MRI, which revealed a tumor on Paul's adrenal gland, which caused the imbalance and the low sex drive. Sam told them that the tumors were usually aggressive, so treatment was risky, but there was hope.
Addison lay down on Pete's table and he did acupuncture on her after seeing that she had a lot of tension in her body. He then left her to breathe and wait for a rush of emotion, a release of psychic pain. Soon after he left, she started crying.
Diagnosis:

Pregnancy
Placenta accreta
Uterine rupture
Lisa went into labor and Addison went with her to the hospital where she was rushed in for a quick delivery. When Addison started to deliver the placenta after the baby was born, her uterus ruptured, so she had to be sedated to have surgery.
Baby Girl
Edit
Lisa's baby needed supplemental oxygen after birth. She weighed 6 lbs., 9 oz.
Kathy talked to Violet about the problem with her husband and how she cheated on him.
Song
Performer
Scene
"California"
A.B. O'Neill
"Leaving in Coffins"
Psapp
"Momma's Boy"
Tim Myers
"You Don't Have Far To Go"
Candi Station

Addison and Pete kiss in the stairwell

"Your Song"
Kate Walsh
"Ain't Nothing Wrong With That"
Robert Randolph & The Family Band
"Mojo Love"
Lay Low
"SRXT"
Bloc Party

Thatcher slaps Meredith's face
Derek, Bailey, and Richard see Thatcher slapping Meredith's face
Notes and Trivia
Edit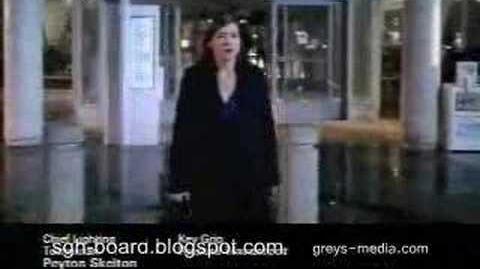 This episode's title originated from the song The Other Side of This Life, originally sung by Jefferson Airplane.
This episode scored 21.23 million viewers.
This episode is the 2nd part of the backdoor pilot for Private Practice.
This episode (and the first part) features a guest appearance by Bellamy Young, who portrays First Lady Mellie Grant in Shonda Rhimes's other TV show Scandal.
Episode Stills
Edit
(Addison is sitting in a stairwell, crying)
Pete: There you are. I just stopped by to see how Lisa and the baby are doing.
(Addison wipes her eyes)
Pete: You okay?
Addison: Yeah. I, uh, had a little too much surgery today. I'm good.
Pete: You look good. You look beautiful. Sam told me I had to stay away from you because your Naomi's friend.
Addison: Stop it.
Pete: What?
Addison: You're flirting.
Pete: What's wrong with flirting?
Addison: What's wrong with it? What's wrong? What's wrong is that I don't have time for it. I am out of time. I missed my chance. And now I have two eggs left, I might as well have no eggs left. I am egg-less. Naomi says she's dried up? I'm the one who's dried up. I'm all barren and dried up. And I'm clearly wasting my time on men. I mean, I might as well take up hobbies. Like needlepoint or collecting those ceramic dolls because that's what dried up women do. They do needlepoint. They don't waste their time flirting with men who clearly just want to get laid. (gets choked up) They don't waste their time telling overly personal information about their eggs to total strangers. Oh my God. I'm sorry.
(Addison stands up, but Pete grabs her)
Addison: What are you doing?
Pete: I'm going to kiss you. I'm going to kiss you with tongue. I'm going kiss you so you feel it. Okay?
Addison: (wipes her nose) Okay.
(They kiss.)
Addison: Why'd you do that?
Pete: To remind you that you're not dried up. (walks down the stairs) If you need me to remind you again, let me know. (walks out the door)
Addison: Okay.
| | |
| --- | --- |
| | A complete overview of this episode's crew can be found here. |
Ad blocker interference detected!
Wikia is a free-to-use site that makes money from advertising. We have a modified experience for viewers using ad blockers

Wikia is not accessible if you've made further modifications. Remove the custom ad blocker rule(s) and the page will load as expected.