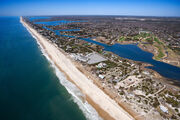 The Hamptons refers specifically to the towns of Southampton and East Hampton on the east end of Long Island, New York. These townships occupy the south fork of Long Island, which is the east end of the South Shore.
Notes and Trivia
Edit
Ad blocker interference detected!
Wikia is a free-to-use site that makes money from advertising. We have a modified experience for viewers using ad blockers

Wikia is not accessible if you've made further modifications. Remove the custom ad blocker rule(s) and the page will load as expected.