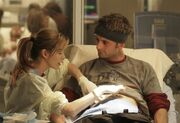 The Dead Baby Bar is a bar in Seattle owned by a man named Larry.
Every year, the bar holds an underground bike race. The winner gets free shots of tequila and it is called "Dead Baby Bike Race Day" by the Seattle Grace Staff.
Every year, it sends mass casualties to Seattle Grace Hospital. Viper was the name of one of the bikers who took part in the race and ended up at the hospital and Kevin Davidson was one of the bystanders killed by the bikers.
Notes and Trivia
Edit
Ad blocker interference detected!
Wikia is a free-to-use site that makes money from advertising. We have a modified experience for viewers using ad blockers

Wikia is not accessible if you've made further modifications. Remove the custom ad blocker rule(s) and the page will load as expected.