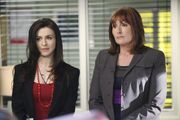 A teaching fellow (sometimes referred to as a TF) is a particular teaching role at some universities. A teaching fellow is an advanced graduate student who serves as the primary instructor for a medical school course. Typically, they teach courses in their area of specialty, in which they hold a master's degree or equivalent, such as a medical degree.
Notable Teaching Fellows
Edit
Ad blocker interference detected!
Wikia is a free-to-use site that makes money from advertising. We have a modified experience for viewers using ad blockers

Wikia is not accessible if you've made further modifications. Remove the custom ad blocker rule(s) and the page will load as expected.