Sympathy for the Parents
Talk

0
1,448pages on
this wiki
Sympathy for the Parents
Season 6, episode 19
Alex screaming at his brother Aaron.
Episode Information
Airdate

April 1, 2010

Written by
Directed by
Episode Guide
Previous
Next
.
"Psychologists believe that every aspect of our lives, all our thought processes and behavior patterns, are the direct result of our relationship to our parents. That every relationship that we have is really just another version of that first relationship. It's just us trying over and over again to get it right. It's the most important job in the world. You probably should need a license to do it, but then most of us wouldn't even pass the written exam. Some people are naturals. They were born to do it. Some have other gifts. But the good news is biology dictates you don't have to do it alone. You can waste your whole life wondering, but the only way to find out what kind of parent you'd be is to finally stop talking about it and just do it."
Sympathy for the Parents is the nineteenth episode of the sixth season and the 121st overall episode of Grey's Anatomy.
Short Summary
Edit
When Alex's younger brother, Aaron, shows up at Seattle Grace-Mercy West with a hernia, it's up to Alex to get Bailey's approval for his pro bono surgery. Matters are further complicated when Aaron discloses that his family has not heard from Alex since he arrived in Seattle, and parts of Alex's past long kept secret are revealed to his friends and fellow doctors.
Full Summary
Edit
Episode in detail.
Main Cast
Edit
Guest Stars
Edit
Co-Starring
Edit
Medical Notes
Edit
| Song | Performer | Scene |
| --- | --- | --- |
| "You're Not Stubborn" | Two Door Cinema Club | |
| "Remember Us" | Aqualung | |
| "I Found You" | Luluc | |
Notes and Trivia
Edit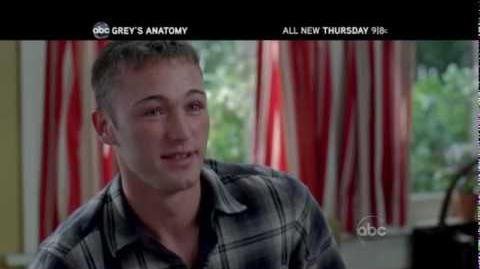 This episode's title originated from the song Sympathy for the Parents, originally sung by Marilyn Manson.
This episode scored 9.87 million viewers, the first time in the show's history that an episode failed to top 10 million viewers.
The episode sets up and foreshadows the shooting that befalls Seattle Grace Mercy West Hospital at the end of the sixth season.

Mr. and Mrs. Clark are introduced, setting up Gary Clark's rage that leads to the shooting.
While Callie is in the OR in a surgery one the policewoman, she remarks, "Could you imagine going to work everyday knowing you're going to end up on the wrong side of a gun?" Assuming that the finale shooting had already been outlined with the introduction of Mr. Clark, this line could have been added to foreshadow events to come.
Episode Stills
Edit
---
---
Cristina: Owen's still in his dark place and he's still not talking. So I turned off my cell in case he wanted to say something, which he didn't. I hate men. They're stupid.
Meredith: Derek asked me to have a baby with him this morning.
Cristina: Really stupid.