Suicide is Painless
Talk

0
4,736pages on
this wiki
Suicide is Painless
Season 6, episode 18
Teddy and Owen in Iraq in the past.
Episode Information
Airdate

March 25, 2010

Written by
Directed by
Episode Guide
Previous
Next
.
"
Dying isn't easy. The body was designed to stay alive; thick skull, strong heart, keen senses. When the body starts to fail, medicine takes over. Surgeons are arrogant enough to think there's no one they can't save. Like I said dying isn't easy. Living is better than dying... until it's not. But even if letting a person die is the right thing to do, it's not what surgeons are built for. We are arrogant and competitive. We don't like to lose and death feels like a loss even when we know it's not. We know it's time. We know it's right. We know we did everything we could. It is hard to shake that feeling that you could've done more.
"
Suicide is Painless is the eighteenth episode of the sixth season and the 120th overall episode of Grey's Anatomy.
Short Summary
Edit
When Teddy's patient seeks to end treatment and her life, she turns to Hunt for help. The situation triggers Hunt's memories of his life at war and his past relationship with Teddy. Meanwhile, Callie and Arizona have a difference in opinion on what their future holds, and Richard tries to adjust to his role as a surgeon.
Full Summary
Edit
Episode in detail.
Main Cast
Edit
Guest Stars
Edit
Co-Starring
Edit
Medical Notes
Edit
| Song | Performer | Scene |
| --- | --- | --- |
| "Holding Out For Love" | Ashtar Command | |
| "Hold On" | Angus and Julia Stone | |
| "Static Waves" | Andrew Belle feat. Katie Herzig | |
| "Draw Your Swords" | Angus and Julia Stone | |
| "Heaven" | Brett Dennen | |
| "Abandon Ship" | Sorry Kisses | |
Notes and Trivia
Edit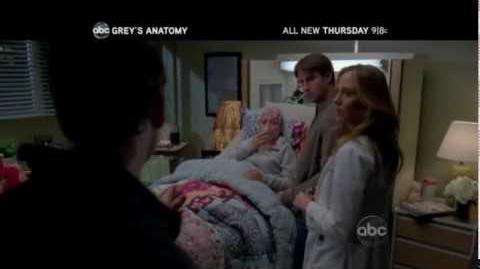 Episode Stills
Edit
Richard: If I wasn't happily married - I'd hit her, I'd hit her hard.
Alex: Sir, I think you wanted to say is - I'd hit that.
Miranda: I don't think you wanted to say that - at all.
| | |
| --- | --- |
| | A complete overview of this episode's crew can be found here. |