Suddenly
Talk

0
1,450pages on
this wiki
Suddenly
Season 8, episode 10
Mark, Derek, Julia, and Lexie preparing for their eye surgery.
Episode Information
Airdate

January 5, 2012

Written by
Directed by
Episode Guide
Previous
Next
.
"Victims of a sudden impact are some of the hardest to treat. It's not just the collision that injures them, it's everything after, the centrifugal force keeps them moving; tossing them from vehicles, throwing them through windshields, slamming their internal organs into the skeleton, their bodies are injured over and over again. So there's no way to know how much damage is actually been done until they stop. You can't prepare for a sudden impact. You can't brace yourself. It just hits you. Out of nowhere. And suddenly the life you knew before is over. Forever."
Suddenly is the tenth episode and mid-season premiere of the eighth season and the 158th overall episode of Grey's Anatomy.
Short Summary
Edit
A severe car crash involving an entire family results in an all-hands-on situation in the ER, as the eldest daughter is left to make the toughest decision of her life. Meanwhile, Teddy, still in the dark about Henry's death, calls upon Cristina to help with her patient in the O.R., and Lexie finds herself working alongside Mark's new girlfriend, Julia, during an eye surgery.
Full Summary
Edit
Episode in detail.
Main Cast
Edit
Guest Stars
Edit
Co-Starring
Edit
Medical Notes
Edit
Song
Performer
Scene
"The Same"
Mackintosh Braun

Derek and Julia are operating on their patient.

"Always Looking"
Dum Dum Girls

Teddy and Cristina are having fun while listening to music in the OR to stay awake.

"Pictures"
Benjamin Francis Leftwich
"Skin"
Zola Jesus

Cristina is mad at Owen for letting her stand in Teddy's OR while she knew Henry was dead.
Teddy goes to watch Henry's body and starts crying.
Lily signs the consent form and her father is taken off of life support.

"New York"
Snow Patrol

Zola is returned to Meredith and Derek.
Notes and Trivia
Edit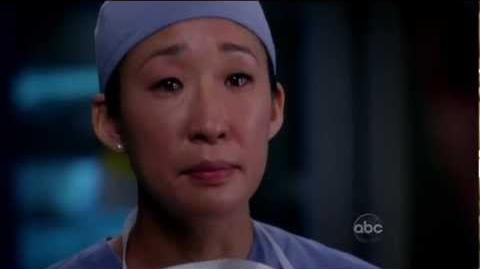 Episode Stills
Edit
Behind the Scenes
Edit
Teddy: I need another me and Cristina is the closes thing. Don't tell her I said that.
---