"
Many people don't know that the human eye has a blind spot in its field of vision. There is a part of the world that we are literally blind to. The problem is, sometimes our blind spots shield us from things that really shouldn't be ignored. Sometimes our blind spots keep our lives bright and shiny. When it comes to our blind spots, maybe our brains aren't compensating. Maybe they're protecting us.
"
Staring at the Sun is the eighth episode of the third season and the 44th overall episode of Grey's Anatomy.
Short Summary
Edit
Meredith tries optimism, and vows to be "bright and shiny." Addison and Derek try "peacefully coexisting", and confront Dr. Webber about his depression and problems with his marriage. George continues to be skeptical about Burke's ability to operate, after seeing Cristina perform a complicated surgery and refuse the credit. George's father is admitted to the hospital. Izzie shadows Alex, who is on Sloan's service.
Full Summary
Edit
Episode in detail.
Main Cast
Edit
Guest Stars
Edit
Co-Starring
Edit
Medical Notes
Edit
Meredith was informed that Ellis hadn't been eating. When Richard brought her a treat, she started eating it right away.
Diagnosis:

Fractured clavicle
Stage III metastatic esophageal cancer
Leaking aortic valve
Harold had passed out and broken his clavicle. Callie had treated his clavicle break and said he would be okay, but they ran more tests to figure out why he had fallen, including an endoscopy and a biopsy, which revealed that he had esophageal cancer, which had spread to his stomach. He also had heart abnormalities, so they ran more tests to see if his heart was strong enough to support the surgery. He had a leaking aortic valve, so they scheduled a valve replacement before his cancer surgery.
Burke's Patient
Edit
Burke and Cristina operated on a patient together.
Diagnosis:

Crush injuries
Blunt trauma to the head
Skull fracture
Brain bleed
Mia, 5, was brought to the ER after being backed over by her mother's SUV. She had crush injuries to her abdomen and blunt trauma to her head. After a CT, she was taken into surgery. Her injuries were repaired and an MRI was ordered for her skull fracture. She was bleeding in her brain, so they had to take her back in for surgery.
Frank was post-op day three from pectoral enhancement via implants. He had fluid build-up under the skin, so he had a tube placed to drain the fluid. They were able to remove the tube and he was told the swelling would go down in a few days.
Song
Performer
Scene
"Not Big"
Lily Allen

Derek and Meredith take a romantic bubble bath, even though they're taking it slow.

"Everybody Get Movin'"
Get Set Go

The interns talk about Cristina. Alex and Izzie imitate their patient.
Meredith is still trying to be bright and shiny.

"Time of My Life"
The Watson Twins

George gets his dad's results and goes to see his dad.
Cristina encourages George to tell his dad the results. He has cancer.

"Where We Gonna Go From Here"
Mat Kearney

Alex lets Izzie remove Frank's tube.
Derek and Meredith work on Mia.
Addison, Callie, and Bailey sit in the gallery and talk about kids and rings.
Callie leaves suddenly.
George confronts Cristina.
Izzie and Alex talk as they go upstairs.
Alex makes a move and kisses her, but Izzie pulls back and says she can't.

"Breakable"
Ingrid Michaelson

Meredith consoles her mother.
Cristina talks to Harold about his surgery. She tells him George is the best intern.
Izzie tells Alex she's not ready and he apologizes.

"God Bless the Child"
Chandra Wilson

Bailey sings to Tuck on the phone.
Addison throws her rings into the sound.
Cristina tells Burke that George knows.
George lies awake in bed.
Meredith and Derek sit on opposite sides of the bathtub and agree they're not bright and shiny.
Bailey finishes singing.
Notes and Trivia
Edit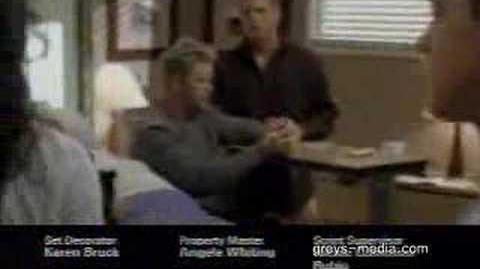 This episode's title originated from the song Staring At the Sun, originally sung by TV on the Radio.
This episode scored 20.92 million viewers.
Chandra Wilson sings "God Bless the Child" in this episode, making her the first cast member to sing a song on the show. Many cast members will follow.
Spoiler: The last scene with Meredith and Ellis, when Meredith informs Ellis that Richard will no longer visit her, assumes that the latter's breakdown was about the former, when in fact, the daughter that Ellis was referring is actually Maggie, whose existence is not revealed until the end of the season 10 finale Fear (of the Unknown), and further explored in season 11.
Episode Stills
Edit
| | |
| --- | --- |
| | A complete overview of this episode's crew can be found here. |
Ad blocker interference detected!
Wikia is a free-to-use site that makes money from advertising. We have a modified experience for viewers using ad blockers

Wikia is not accessible if you've made further modifications. Remove the custom ad blocker rule(s) and the page will load as expected.