St. Ambrose Hospital is the local hospital for the Oceanside Wellness Group and Pacific Wellcare Center in the event of any medical emergencies involving their patients. Located in Santa Monica, California, St. Ambrose has ORs, an ER, NICU, ICU, and multiple wards and private patient rooms. It is at least 124 years old. It is also a teaching hospital.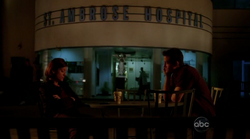 Current Staff
Edit
According to Charlotte, there are over 200 physicians working at the hospital.
Support Staff
Edit
​Former Staff
Edit
Hospital Privileges
Edit
There are medical personnel who have privileges at St. Ambrose, despite not being on staff, which allows them access everything that medical staff at St. Ambrose would be normally entitled to, such as use of ORs and surgical privileges, access to patient files, administration of medications and use the pharmacy and clinical labs, access to treatment equipment, including treatment in the ER bays.
Formerly having Hospital Privileges
Edit
These doctors had privileges at St. Ambrose while under employment at the Oceanside Wellness Group or the Pacific Wellcare Center; since they have resigned from their position at their respective practices, it can be assumed that their privileges have been revoked.
Notes and Trivia
Edit
Ad blocker interference detected!
Wikia is a free-to-use site that makes money from advertising. We have a modified experience for viewers using ad blockers

Wikia is not accessible if you've made further modifications. Remove the custom ad blocker rule(s) and the page will load as expected.