Something's Gotta Give
Talk

10
1,425pages on
this wiki
Something's Gotta Give
Season 7, episode 8
Callie and Mark having fun at Cristina's housewarming party.
Episode Information
Airdate

November 11, 2010

Written by
Directed by
Episode Guide
Previous
Next
.
"The human body is a highly pressurized system. The blood pressure measures the force of blood, pulsating through the arteries. It's important to keep this pressure regulated. Low or inadequate pressure can cause weakness or failure. It's when the pressure gets too high... that problems really occur. If the pressure continues to increase, a closer examination is called for... Because it's the best indicator that something is going terribly wrong. Every pressurized system needs a relief valve. There has to be a way to reduce the stress, the tension, before it becomes too much to bear. There has to be a way to find relief, because if the pressure doesn't find a way out... it'll make one. It will explode. It's the pressure we put on ourselves... that's the hardest to bear. The pressure to be better than we are. The pressure to be better than we think we can be. It never ever lets up. It just builds and builds and builds."
Something's Gotta Give is the eighth episode of the seventh season and the 134th overall episode of Grey's Anatomy.
Short Summary
Edit
Top security measures go into place as a team of doctors, led by the Chief, try to save the life of a major political figure from the Middle East. Meanwhile Cristina decides to finally decorate her new place and throw a housewarming party, and Alex shows up late from a weekend getaway to his first day of rounds with the new Pediatrics Attending, Dr. Robert Stark.
Full Summary
Edit
Episode in detail.
Main Cast
Edit
Guest Stars
Edit
Co-Starring
Edit
Medical Notes
Edit
| Song | Performer | Scene |
| --- | --- | --- |
| "Gone" | Eels | |
| "Dead Disco" | Metric | |
| "Dreamer" | K'naan | |
| "Shouldn't Have Loved" | Azure Ray | |
| "Could It Be" | Mackintosh Braun | |
| "Sing Me To Sleep" | Fran Healy feat. Neko Case | |
Notes and Trivia
Edit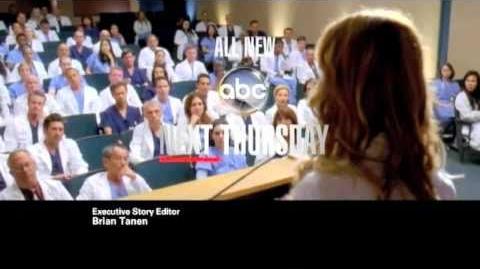 This episode's title originated from the song Something's Gotta Give, originally sung by Sammy Davis, Jr..
This episode scored 11.13 million viewers.
This is the first episode not to feature Jessica Capshaw since she was made a series regular at the start of Season 6.
Episode Stills
Edit
Behind the Scenes
Edit
---
---
---