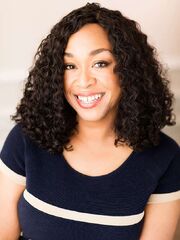 Shonda Rhimes is an American screenwriter, director, producer, and the creator of Grey's Anatomy and Private Practice. In May 2007, she was named as one of the Time 100 people who help shape the world.
Biography
Edit
Shonda was born on January 13, 1970 in Chicago, Illinois to Vera Rhimes and Ilee Rhimes. She is the youngest among four sisters and two brothers. She has a bachelor's degree from Dartmouth (1991) and a master of fine arts (MFA) from the University of Southern California's School of Cinema-Television. She has three daughters.
Rhimes initially struggled to find a writing or production gig after graduation. For a time, she lived with her sister in San Francisco and worked in advertising. Later, she worked as an office administrator, and then as a counselor at a job center that taught mentally ill and homeless people job skills. Eventually, Rhimes began to break into the market, and sold several scripts. Rhimes won the Best Drama TV Series Golden Globe award in 2007 for Grey's Anatomy.
Written Episodes
Edit
Grey's Anatomy
Edit
Season 1
Season 2
Season 3
Season 4
Season 5
Season 6
Season 7
Season 8
Season 11
Private Practice
Edit
Season 1
Season 2
Season 3
Season 4
Season 5
Season 6
Notes and Trivia
Edit
External Links
Edit
Ad blocker interference detected!
Wikia is a free-to-use site that makes money from advertising. We have a modified experience for viewers using ad blockers

Wikia is not accessible if you've made further modifications. Remove the custom ad blocker rule(s) and the page will load as expected.