Shiny Happy People
Talk

0
1,434pages on
this wiki
Shiny Happy People
Season 6, episode 22
Alex has come up with the right diagnosis for a girl who has been diagnosed wrongly with schizophrenia.
Episode Information
Airdate

May 13, 2010

Written by
Directed by
Episode Guide
Previous
Next
.
"It's a common belief that positive thinking leads to a happier healthier life. As children we are told to smile, be cheerful, and put on a happy face. As adults we are told to look on the bright side, to make lemonade, and see glasses as half full. Sometimes reality can get in the way of our ability to act the happy part though. Your health can fail, boyfriends can cheat, friends can disappoint. It's in these moments, when you just want to get real, to drop the act, and be your true scared unhappy self. Ask most people what they want out of life and the answer is simple - to be happy. Maybe it's this expectation though of wanting to be happy that just keeps us from ever getting there. Maybe the more we try to will ourselves to states of bliss, the more confused we get - to the point where we don't recognize ourselves. Instead we just keep smiling - trying like hell to be the happy people we wish we were. Until eventually it hits us, it's been there all along. Not in our dreams or our hopes but in the known, the comfortable, the familiar."
Shiny Happy People is the twenty-second episode of the sixth season and the 124th overall episode of Grey's Anatomy.
Short Summary
Edit
An elderly patient admitted into the E.R. for a heart condition sees a familiar face, a long lost love who happens to be in the E.R. as well for a fractured arm, and the staff find themselves caught up in their love story. Meanwhile, Karev treats a troubled teenage patient (guest star Demi Lovato) whose parents brought her in for schizophrenia, and Meredith can't help but tell Cristina about her suspicions of Owen -- which inevitably messes with Cristina's head.
Full Summary
Edit
Episode in detail.
Main Cast
Edit
Guest Stars
Edit
Co-Starring
Edit
Medical Notes
Edit
| Song | Performer | Scene |
| --- | --- | --- |
| "Do You Fancy Me? (Bluff)" | Kerry Leatham | |
| "Ain't Nothing Like the Real Thing" | Chandra Wilson and Jason George | |
| "American Stitches" | Richard Walters | |
| "Shiny and Warm" | Goldfrapp | |
| "My Shadow" | Keane | |
| "Open Your Eyes" | Andrew Belle | |
Notes and Trivia
Edit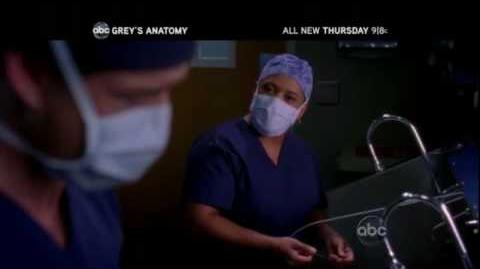 This episode's title originated from the song Shiny Happy People, originally sung by R.E.M.
This episode scored 11.05 million viewers.
Episode Stills
Edit
Mark: Lex, I'm still in love with you. I tried not to be, but it didn't work. And Sloane's gone. There's no baby. And I don't wanna sleep around. I want another chance. I'm in love with you.
Lexie: Karev... he's... Mark, I have a boyfriend.
Mark: I know. I'm saying you could have a husband.