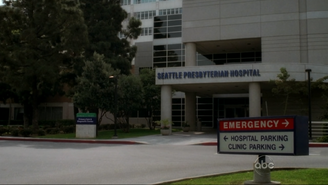 Seattle Presbyterian Hospital
(also known as Seattle Pres) is a
teaching hospital
located in
Seattle
and thereby a rival teaching hospital to
Grey Sloan Memorial Hospital
(formerly to both Seattle Grace and Mercy West before the merger and later name change).
Izzie
mentioned that she got her IL-2 treatment in this hospital as she didn't want to return to Seattle Grace Mercy West yet.
("New History")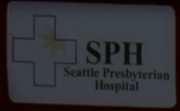 After the shooting at Seattle Grace Mercy West, Alex and Teddy were driven to Seattle Presbyterian, where Teddy operated on Alex. ("Death and All His Friends")
Catherine Avery sent a postcard to Seattle Grace Mercy West Hospital, letting Richard know she was in town for a case at Seattle Presbyterian. ("The End is the Beginning is the End")
During the superstorm, Seattle Pres was damaged and overrun similar to Grey Sloan Memorial, but Owen stated they Seattle Pres was even worse off than they were. ("Seal Our Fate")
Known Staff
Edit
Attendings
Edit
Residents
Edit
Nursing Staff
Edit
Known Former Staff
Edit
Hospital Privileges
Edit
There are medical personnel who have privileges at Seattle Presbyterian Hospital, despite not being on staff, which allows them access everything that medical staff at Seattle Presbyterian Hospital would be normally entitled to, such as use of ORs and surgical privileges, access to patient files, administration of medications and use the pharmacy and clinical labs, access to treatment equipment, including treatment in the ER bays.
Privileges are usually extended to attending-level physicians and surgeons.
Notes and Trivia
Edit
Ad blocker interference detected!
Wikia is a free-to-use site that makes money from advertising. We have a modified experience for viewers using ad blockers

Wikia is not accessible if you've made further modifications. Remove the custom ad blocker rule(s) and the page will load as expected.