Season 4 (Grey's Anatomy)
Talk

0
1,005pages on
this wiki
Season 4
The promo picture of the season 4 main cast, Brooke Smith excluded.
Season Information
No. of episodes

17

Original run

September 27, 2007 - May 22, 2008

DVD Releases
Region 1

September 9, 2008

Region 2

November 23, 2009

Region 4

November 5, 2008

Season Guide
Previous
Next
.
Season Four: 2007-2008
Nielsen Ranking (2007–08 U.S. TV season; based on average total viewers per episode): #8 (15.9 million viewers)
Season 4
Edit
For the first time in the show's history, two of the series regulars were not returning. Kate Walsh's character was transferred to the Grey's Anatomy spin-off, Private Practice. On June 7, 2007, it was announced that Isaiah Washington's contract had not been renewed. Former Reunion star, Chyler Leigh, guest starred in the final two episodes of season three as Lexie Grey, a new intern and Meredith Grey's younger half-sister. On June 11, 2007, it was announced that Leigh would become a series regular, instead of a 13 episode story arc as previously planned.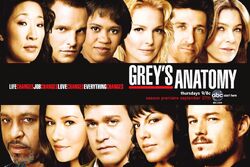 The character
Dr. Erica Hahn
(The Silence of the Lambs fame actress
Brooke Smith
) joined the main cast, reprising her antagonizing role in the season's
fifth episode
. She replaces
Preston Burke
as head of Cardiothoracics. Upon her return, she makes
Sandra Oh
's character,
Cristina Yang
work harder for her success in Cardiothoracics.
It was once reported that a new male character would be introduced in season four. This character would somehow be in "competition" with Dr. Derek Shepherd. This idea was obviously not put into fruition until the next season, with the arrival of Dr. Owen Hunt. Fourth season guest stars included former Gilmore Girls actor Edward Herrmann who appeared in three episodes. Seth Green of Buffy the Vampire Slayer fame guest starred in a two-part episode. Lauren Stamile plays a scrub nurse named Rose, who became a potential love interest for Derek. Dawson's Creek alumnus Joshua Jackson was scheduled to make his return to television in a multi-episode arc as a doctor with his first appearance in the season's eleventh episode. Jackson's appearance was cancelled due to the [2007–2008 Writers Guild of America strike].
During the Writer's Strike, the current cast of Grey's Anatomy and Private Practice performed in a charity event, Good Medicine, for the Solidarity Fund set up by the Writer's Guild of America for all those who had been put out of work because of the strike.
On February 20, 2008, it was confirmed that Grey's Anatomy would return on April 24, 2008 for five new episodes. Where the Wild Things Are was the first episode shown after the incubation resulted from WGA strike.Kate Walsh returned as Dr. Addison Montgomery for the May 1 episode, Piece of My Heart. Her appearance played a pivotal role in the burgeoning romance between Dr. Erica Hahn and Dr. Callie Torres, as she was the first one to suggest that perhaps they were an item. The double episode finale (Freedom) aired May 22, 2008. It was centered around Meredith having a huge breakthrough with her personal life including Derek and her mother. Meredith and Derek performed clinical trials on patients with brain tumors. They lost all of their patients except for one whose boyfriend died just before her life saving surgery. After finally succeeding, Meredith took a risk and reunited with Derek. Almost all the cast had a kiss, including Meredith and Derek, George and Lexie, Richard and Adele, Alex and Izzie, and, Erica and Callie. To prepare for the lesbian story line, which continued momentarily in season five, Grey's consulted with GLAAD. At the end, Derek goes to his camper in search of Meredith, only to find her waiting on his land with candles dividing each room of their could-be "home". They kiss, and Derek leaves her long enough to break up with Rose.
Main Cast
Edit