Season 3 (Grey's Anatomy)
Talk

0
1,005pages on
this wiki
Season 3
The promo picture of the season 3 main cast.
Season Information
No. of episodes

25

Original run

September 21, 2006 - May 17, 2007

DVD Releases
Region 1

September 11, 2007

Region 2

September 15, 2008

Region 4

October 31, 2007

Season Guide
Previous
Next
.
Season Three: 2006-2007
Nielsen Ranking (2006-07 U.S. TV season; based on average total viewers per episode): #4 (22.3 million viewers)
Season 3
Edit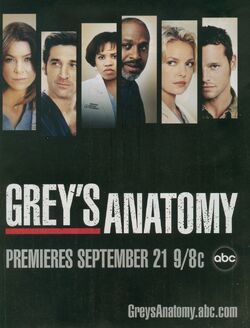 On May 16, 2006, the morning following the close of the second season, ABC announced plans for a third season of Grey's Anatomy to anchor the network's Thursday evening programming, set to air at 9 p.m. ET. ABC first tested the series' potential for Thursday audiences on February 9, 2006, as it aired an encore of the Super Bowl XL-leadout episode titled "It's the End of the World." The following Thursday, February 16, 2006, the network repeated the second part of the story arc, "(As We Know It)." Both airings began at 9:30 p.m. ET, and thus positioned Grey's Anatomy against CBS' CSI: Crime Scene Investigation and Without a Trace, Fox Network's The OC, and NBC's long-running medical drama ER. Solid performance on these nights, with the repeat airings maintaining a strong second-place finish, may have been influential in the fall scheduling decision.
The move to Thursdays was viewed as a vote of confidence in the series from ABC, as well as a bid to attract more advertising dollars, since movie studios heavily advertise movies on Thursday evenings for that weekend's box office. The move was cited as one factor for competing network NBC's decision to move its own Studio 60 on the Sunset Strip, originally intended to air Thursdays at 9 p.m. ET. ABC announced on July 18, 2006, that the third season would premiere on September 21, 2006.
The series assumed its new Thursday slot on July 6, 2006, as part of a two-hour event featuring a repeat of the pilot episode, "A Hard Day's Night." Throughout July and August, the series aired twice weekly — once in the new Thursday time period, and once in its previous Sunday time period. Grey's Anatomy performed strongly in the show's new timeslot in its season premiere. It was able to snatch away the No. 1 position from CSI: Crime Scene Investigation during the 9 p.m. hour, bringing in an impressive 25.14 million viewers throughout the hour and a strong 10.9 rating in the vital 18-49 demographic. In comparison, CSI's season premiere earned a competitive 22.04 million total viewership and a 7.5 rating in the 18-49 demographic.
The third season ended on May 17, 2007. As the season came to a close, Burke called off his wedding to Cristina at the church, Chief Webber stayed on as the Chief of Surgery, Callie was appointed Chief Resident, and George learned he failed the final intern exam. The relationship between Derek and Meredith, as well as the triangle between Callie, George, and Izzie were left unresolved. Addison decides to start a new life in Los Angeles in the spin-off Private Practice.
Main Cast
Edit