The second season of Private Practice premiered on October 1, 2008 and concluded on April 30, 2009. It was broadcast on ABC on Wednesdays nights at 9 PM until the tenth episode, and moved to Thursday nights at 10 PM as of the eleventh episode. The season consists of 22 episodes.
Addison Forbes Montgomery is a renowned surgeon. Having left behind Seattle Grace Hospital, a broken marriage with Derek "McDreamy" Shepherd, and her torn relationship with Mark "McSteamy" Sloan, Addison moves to Los Angeles for sunnier weather and happier possibilities. For Addison, an old friend's invitation brings her to a new city and a new life full of promise. At Oceanside Wellness Group, the doctors are dedicated pros; it's their private lives that need a little practice.
Addison discovers that the practice is in financial trouble. She and Sam relieve Naomi of her administrative duties and take the lead, which angers Naomi.
Cooper tries to build a secret relationship with Charlotte, even though she prefers to keep it sex only.
Dell is tired of being taken for granted and quits his job.
Main Cast
Edit
Special Guest Stars
Edit
Recurring Guest Stars
Edit
Prominent Guest Stars
Edit
Recurring Co-Stars
Edit
Storyline
Edit
Now Addison has found her feet at the Oceanside Wellness Group and believes she made the right decision, she carries on her life trying out her new relationship with Kevin. To make matters worse, her brother comes into town, which leads into the Grey's Anatomy and Private Practice Crossovers.
Unfortunately, the practice is running into financial difficult, pitting Sam and Naomi against each other and Addison stepping in and unwittingly becoming the Director of the practice. Not helping matters, Charlotte attempts to woo Addison with many surgeries, and failing that, opens a a rival practice in the same building as Oceanside Wellness.
Meanwhile, Sam and Naomi both begin to start dating other people, Cooper carries on his relationship with Charlotte unbeknownst to the rest of the staff, Pete's old flame comes into town, Violet meets someone and Dell's past is brought up and comes back.
DVD Release
Edit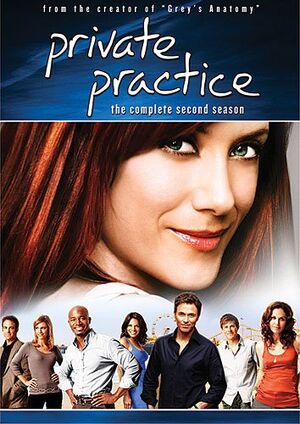 The "
Private Practice: The Complete Second Season
" boxset was released in region 1 on September 15, 2009 by ABC Studios. On March 1, 2010 and November 2, 2009, the DVD was released in regions 2 and 4 respectively. The run time of the DVD is 946 minutes.
Set Details
Edit
The boxset contains the 22 episodes of the season, with two extended. The DVD box contains 6 discs. Other set details are:
English (Dolby Digital 5.1 Surround)
1.78:1 aspect ratio
Subtitles: English, French, and Spanish
Special Features
Edit
Additional to the episodes, the season 2 DVD set also contains a couple of special features:
Extended Episodes
Deleted Scenes
Bloopers
Patient Confidentiality: Examining Season 2
Life Through the Lens: The Pictures of Chris Lowell
Audio Commentaries on episodes and deleted scenes
Notes and Trivia
Edit
Cast Promotional Photos
Edit
Ad blocker interference detected!
Wikia is a free-to-use site that makes money from advertising. We have a modified experience for viewers using ad blockers

Wikia is not accessible if you've made further modifications. Remove the custom ad blocker rule(s) and the page will load as expected.