The twelfth season of Grey's Anatomy premiered on September 24, 2015, and consisted of 24 episodes. It was broadcast on Thursday nights at 8 PM on ABC as part of the TGIT lineup.
The doctors find themselves simmering in a world of sexual politics. Bailey struggles with what it means to be a woman in charge of the hospital and her husband, while Maggie faces the challenges of dating a younger man and Amelia battles her own demons. Meanwhile, in the wake of a brutal attack, Meredith finds comfort and love in the most unexpected place, Callie and Arizona find themselves in a fight for their lives, and tensions run high when Amelia and Meredith come face to face with the doctor responsible for Derek's death.
After Richard and Catherine's wedding, Maggie and Amelia move along with Meredith and her kids to her former house.
Meredith starts to teach an anatomy class for new interns and residents and later is named Head of General Surgery.
Alex and Jo move to a loft. He plans a proposal and executes it, right when she decides she needs some time for herself as she feels he's not in her corner. He proposes her again, but she rejects him for unknown reasons.
Bailey becomes the new Chief of Surgery, and her husband Ben deals with the aftermath.
Callie has a new love interest, Penny Blake, one of the doctors who worked on Derek when he died. Meredith, Maggie, and Amelia throw a dinner party where Callie introduces her.
Penny transfers her surgical residency to Grey Sloan Memorial Hospital, causing tension between the attendings.
Owen and Amelia's relationship begins to develop.
Arizona gets a roommate, Andrew DeLuca, a new intern who was in a relationship with Maggie.
April returns from Jordan wanting to improve her marriage with Jackson; she discovers her second pregnancy before signing the divorce papers but continues forward with the divorce because she doesn't want Jackson to stay with her just for the baby.
Arizona later tells Jackson that April is pregnant. The divorced couple decides to co-parent peacefully.  
Stephanie begins to move up in the hospital and her colleagues find out about her childhood disease. She falls in love with a MS patient, Kyle Diaz; they start a brief relationship, but he dies after a brain surgery.
Bailey hires Nathan Riggs, a colleague and friend of April's from the army. Riggs and Owen have a dark past involving Owen's MIA sister, Megan.
Meredith is brutally attacked by a patient and has a painful recovery process.
After several discussions, Meredith kicks Amelia out of the house and Amelia breaks her sobriety. During Meredith's recovery, she returns to AA meetings and comes back to the house after breaking up her relationship with Owen.
After being taught by Amelia and Meredith, Penny wins the prestigious Preminger Grant, which requires her to move to New York for one year. Callie decides to follow her with Sofia by her side, without Arizona's consent.
Afraid that Callie will take away her daugher, Arizona hires a lawyer. When they're unable to reach a compromise, the case goes to court and Arizona is awarded full custody. Unwilling to move to New York without Sofia, Callie decides to stay in Seattle and breaks up with Penny, who leaves the hospital for New York.
A drunk Jo reveals to Andrew that she's still married to a man who used to abuse her. She fled from him and can't divorce him without risking that he'll find her again, which is the reason she was forced to turn down Alex's proposals. Alex eventually wants to forgive Jo, only to find her in a compromising position with Andrew. Alex starts beating him, not allowing him to explain he was just trying to put Jo to bed.
Amelia and Owen come back, and after picturing a future together, she proposes marriage and he accepts. After some hesitation from Amelia, they get married.
After a hook-up with Meredith, Nathan seems to develop feelings for her. Meanwhile, Maggie has developed feelings for him and mistakingly thinks Nathan feels the same about her.
Main Cast
Edit
Recurring Guest Stars
Edit
Prominent Guest Stars
Edit
Recurring Co-Stars
Edit
Notes and Trivia
Edit
ABC officially renewed Grey's Anatomy for its twelfth season on May 7, 2015.
This season will be the first one not to feature Patrick Dempsey as Dr. Derek Shepherd.
During the ABC Upfronts of 2015, it was confirmed that season 12 would not be the last season of Grey's, as the network wants it to keep going for many years to come.
Shonda Rhimes called this season the season of rebirth and stated it would be much lighter of tone.
Filming started on July 22, 2015.
Like season three and season eleven, this season ended with a wedding.
As of this season, Debbie Allen is an executive producer.
This season saw several changes to the main cast compared to last season, having 16 regular cast members, the largest number in the show's history:
Like season 11, season 12 features a winter finale, which is the eighth episode.
The music of this season will primarily be covers of more recent pop music.
This is the first season not to feature the Dream House since its construction in season seven.
For this season, advertisers have to pay $157,609 to air a 30-second ad during the commercials during episodes.
A party for the 250th episode was held on September 15, 2015 with a cake and all of the cast and crew present.
All voice overs this season are narrated by Meredith Grey, except for one. Some of them are interconnected with her anatomy class.
Academy Award winner Denzel Washington will make his television director debut on the ninth episode.
Ellen Pompeo cut her hair this season because it was all fried, so it needed to be cut.
Jessica Capshaw was pregnant with her fourth child during the filming of the season during 2016. She gave birth shortly after she wrapped filming.
The cast and crew had a BBQ on July 12, 2015 to kick off the production of this season.
Sara Ramírez wrapped filming for the season on April 27, 2016.
Filming of this season wrapped on May 5, 2016. Camilla Luddington, Kevin McKidd, Justin Chambers, and Caterina Scorsone were among the actors who still had scenes to film that day.
For the 68th Emmy Awards, the series submitted several nomination ballots.
There was a wrap party on May 6, 2016.
The table read for the premiere took place on July 15, 2015.
The table read for the second episode took place on July 28, 2015.
The table read for the third episode took place on August 6, 2015.
The table read for the fourth episode took place on August 24, 2015.
The table read for the fifth episode took place on September 2, 2015.
The table read for the sixth episode took place on September 14, 2015.
The table read for the seventh episode took place on September 28, 2015.
The table read for the eighth episode took place on October 7, 2015.
The table read for the ninth episode took place on October 14, 2015.
The table read for the tenth episode took place on November 6, 2015.
The table read for the eleventh episode took place on November 19, 2015.
The table read for the fifteenth episode took place on January 6, 2016. The last day of filming for episode fifteen was January 19, 2016.
The table read for the sixteenth episode took place on January 18, 2016.
The table read for the seventeenth episode took place on January 29, 2016.
The table read for the eighteenth episode took place on February 8, 2016.
The table read for the nineteenth episode took place on February 19, 2016.
The table read for the twentieth episode took place on March 3, 2016.
There was no table read for the twenty-first episode due to a busy schedule precluding it.
The table read for the twenty-second episode took place on March 22, 2016.
The table read for the twenty-third episode took place on April 6, 2016.
The table read for the twenty-fourth episode, the finale, took place on April 20, 2016.
Reception
Edit
DVD Release
Edit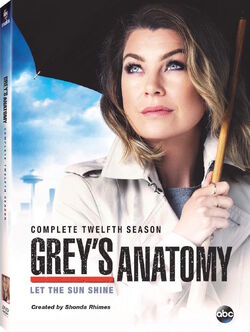 The "Grey's Anatomy: Complete Twelfth Season – Let the Sun Shine" boxset was released on August 30, 2016 in Region 1. In region 2, the boxset will be released on October 3, 2016.
Set Details
Edit
The boxset contains the 24 episodes of the season. The DVD box includes 6 discs. Other set details are:
English (Dolby Digital 5.1 Surround)
Special Features
Edit
In addition to the episodes, the season 12 DVD set also contains a couple of special features:
Deleted Scenes
In Stitches -- Check Out The Cast Cutting Up, Both In And Out Of the OR
Cast Promotional Photos
Edit
Ad blocker interference detected!
Wikia is a free-to-use site that makes money from advertising. We have a modified experience for viewers using ad blockers

Wikia is not accessible if you've made further modifications. Remove the custom ad blocker rule(s) and the page will load as expected.