Sanctuary
Talk

0
1,447pages on
this wiki
Sanctuary
Season 6, episode 23
Bailey and Charles Percy talk about their patient's upcoming surgery.
Episode Information
Airdate

May 20, 2010

Written by
Directed by
Episode Guide
Previous
Next
.
"For most people, a hospital is a scary place. A hostile place. A place where bad things happen. Most people would prefer church, or school, or home. But I... grew up here. While my mom was on rounds, I learned to read in the O.R. gallery. I played in the morgue. I colored with crayons on old E.R. charts. The hospital was my church... my school... my home. The hospital was my safe place... My sanctuary. I love it here. Correction: loved it here."
Sanctuary is the twenty-third episode of the sixth season and the 125th overall episode of Grey's Anatomy.
Short Summary
Edit
Seattle Grace Hospital is hit with a crisis like no other in its history.
Full Summary
Edit
Derek is standing on the bridge in the hospital. 
Lexie and Alex are sleeping together in an on-call room. A pager goes off, and Alex accidentally pushes her out of the bed when he checks to see if it's his, but it's Lexie's. She takes her lab coat and leaves.
In the ER, a woman is sobbing hysterically. A body is taken away on a gurney. Jackson is on the phone. 
In a coffee place, Richard is having breakfast. He's holding his AA chip, and the waitress comments he can't pay with that. He's now six months sober. "Good for you," the waitress says with a smile.
Cristina and Callie are having breakfast together. Callie is crying, and Cristina yells at her to stop crying while she starts crying herself. "You stop crying!" Callie says. They then both cry together.
Meredith is looking for a pregnancy test in a supply closet. She takes one and goes the restroom, where she crosses Reed, to pee on the stick. In the residents lounge, Meredith is waiting for April and Charles to leave. When they do, she takes the test, which is positive. With a smile, she walks down the hallway, where she crosses Gary Clark. Meanwhile, Meredith's voice over says she loves the hospital; correction: loved it.
Cristina can't believe Meredith is pregnant. When Meredith tells her the pregnancy wasn't planned, Cristina asks if she's planning on keeping the baby, which she is. Meredith tells her she just found out and still has to tell Derek. They get paged by Teddy and Derek. Meredith says she'll go tell Derek and Cristina says she's completely over the Teddy-Owen thing. Cristina lays her hand on Meredith's shoulder. "This is very adult. I'm proud of you, Meredith Grey," she says. "I'm proud of me," she says. They then walk away. Cristina says she hopes it has Derek's hair.
Gary Clark walks into a busy ER. He asks Alex where he can find the Chief of Surgery, but Alex doesn't know and tells him to go find a nurse and ask them to find him. Lexie informs Arizona on a girl with a "very angry appendix". The mother is worried about the surgery, but Arizona says that even a baby surgeon like Lexie could do it. She tells Lexie to admit Ruby to peds and make her feel comfortable while she gets an OR. Alex gives Callie the scans of a 6-year old with a tibia fracture and he tells Callie to be nicer to him, because he cleaned up the kid's pee before she got there. She apologizes, when Arizona joins and greets them. Callie walks away.
Owen runs down the hallway and meets Teddy, who got paged too. They walk to the ER together, but she ignores him, just like Cristina is, he tells her. She is mad at him for telling Derek to give her job away, and they enter a trauma room.
Bailey and Charles tell Mary Portman and her husband Bill that she can't have her second surgery today as she needs a blood transfusion first. She is disappointed because she wants to get rid of her colostomy bag as soon as possible. She says she's starving, as she hasn't eaten because she was supposed to have surgery. She says she'd eat Percy if she could. "On the plus side, that means no poop in the bag," Bill jokes, while Charles gets set for the blood transfusion. Bailey says that they'll see tomorrow if Mary can lose the poop bag. "Let's get you some food so you don't eat Dr. Percy. I don't like him, but he's useful," Bailey says. Mary asks her husband to pick up a pizza for her, and Bailey reminds her of the bowel prep and enema that'll follow if she has the pizza, but Mary says it's totally worth it. As Bill leaves, she compliments his ass.
A woman is trying to get in a trauma room to see her husband, but Tyler body blocks her. Tyler says the patient has a serious gun shot wound, whlie the wife thought he was in a car accident. She manages to get past Tyler and her husband says this guy hit him, and when he got out of his car to give him his insurance card, he was shot. Owen and Teddy have to take the man up to the OR right away, but Owen allows the wife to say goodbye. Teddy finds this was wasted time. Cristina comes in, and Teddy tells her to cover her post-ops. Cristina asks if she's not going to surgery with them, and Owen calls her name. "I'm talking to Dr. Altman," she snaps. Teddy repeats she needs her to cover her post-ops, and Cristina says she will. Owen and Teddy then take the patient to the OR. While running, Owen looks back at Cristina.
Gary enters the ER again, and he asks Tyler to find the Chief. Tyler asks for a minute and walks away. Gary then walks into a supply closet, where Reed is grabbing supplies. "Excuse me, Madam," Gary says. "It's Doctor, what?" Reed says. He asks where he can find Dr. Shepherd, but she doesn't know. She walks past him, but he grabs her arm. He asks her again for directions to his office, but she says he has to find a nurse and ask them, as she has patient with seizures. "Ma'am," Gary says, and Reed turns around to tell him that he's not even supposed to be there. "I'm not a tourguide, I'm a surgeon, okay?" she says, as he pulls out a gun and shoots her in the head. She falls down, dead, and her blood spreads across the floor. Alex suddenly appears behind Gary. "Dude, what the..." he starts, but Gary shoots him in the chest.
The elevator doors open and Alex drags himself into it. He's heavily bleeding and he's having difficulties breathing.
Meredith enters Derek's office. He paged her, as he'd like to see his wife every now and then. She told him about the case she had the previous night with Shadow Shepherd. Derek is jealous of her, because he only has paperwork to do. "I'd love to have something jammed in my brain, that way I could see the inside of an OR," he jokes, referring to Meredith's case. Meredith says she has something to tell him tonight. He says he'll be there, and she leaves. "I hate that you're so happy," he says, but she tells him to look forward to the sex.
Jackson, Teddy and Owen are operating on the gunshot victim. Cristina comes in to update Teddy on a patient, and Teddy agrees with Cristina's plan to treat him. Owen says that Cristina could help them out and that she has to scrub in, but she says she rather not. Owen walks behind her, and outside, she asks him if he loves Teddy. 
to be completed
Main Cast
Edit
Guest Stars
Edit
Co-Starring
Edit
Medical Notes
Edit
Diagnosis: Gunshot wound to the forehead
Doctors: None
Treatment: None
Reed was shot by Gary Clark after he approached her looking for directions to Derek Shepherd's office.  She was upset with him and stated that he should not have been in supply room.  After she told him she was not a tour guide but a surgeon, he shot her once in the forehead. She immediately died after being shot.
Diagnosis: Gunshot wound to the right flank/chest
Doctors: Lexie Grey  and Mark Sloan
Treatment: Supportive Care including a chest tube, blood transfusions, and an IV.
Alex was shot within moments of Reed Adamson's death.  He was shot through his right side into his chest and managed to retain consciousness long enough to get to an elevator.  Once there he passed out and was found by Lexie Grey and Mark Sloan as they attempted to flee the waiting area where Mr. Clark had just fired a gun and killed a nurse.
Together, Lexie and Mark got Alex into a meeting room and began giving care.
Song
Performer
Scene
"Holding Us Back"
Katie Herzig

During Meredith's voiceover at the opening of the episode.
During the close of the episode as Mr. Clark shoots Derek.

"How the Heart Grows Wicked"
Patrick Park

Cristina breaks up with Owen.
April discovers Reed's body, then rushes into Derek's office to tell him about Reed.
Notes and Trivia
Edit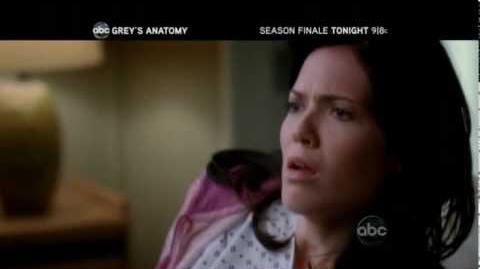 This episode's title originated from the song Sanctuary, originally sung by Iron Maiden.
This episode scored 13.93 million viewers.
During Meredith and Cristina's talk about Cristina being Meredith's child's godmother, Cristina asks, "If you and Derek are in a plane crash and die, the kid is mine?" Two seasons later, Meredith and Derek have a near death experience when they are in a plane crash along with Cristina, Arizona, Mark (who dies in the hospital after they're rescued), and Lexie, who dies after being crushed by a piece of the plane.
The gun held by Gary Clark was a real gun, only modified to be safer.
Sarah Drew tweeted that this episode, along with Death and All His Friends, was her favorite season 6 episode to film. She also stated in an interview that she didn't like that April got Derek shot, as fans of the show disliked her character already for having a crush on Derek.
Originally, Shonda Rhimes wrote in the script that Bailey got shot. However, she changed this because she felt really bad about it, as she felt like Bailey is the soul of the show.
The café were Richard is having breakfast is called "Rhimes Café", which is most likely a reference to the name of the creator of the show, Shonda Rhimes.
Teddy Altman is the only surgeon who has not seen the shooter.
When in lockdown on the Peds floor, Arizona says she'll trust Callie when Callie does things that convince her she's "different from George O'Malley, Erica Hahn, Mark Sloan, the girl at the coffee cart." Retrospectively, this is ironic because three seasons later Arizona is swooned by Lauren Boswell at a coffee cart while Callie has never been shown to fall for anyone at a coffee cart.
Goof: April normally should've seen from the Chief's office that Derek was at gunpoint.
Episode Stills
Edit
---
---
---
---
---
---
---
---
---
---