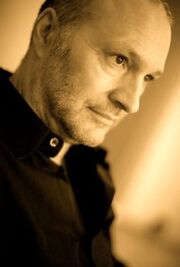 Rob Bailey is a director on Grey's Anatomy.
Criminal Minds (2012-2017)
Code Black (2016-2017)
Gotham (2014-2016)
Criminal Minds: Beyond Borders (2016)
CSI: Cyber (2015-2016)
Black Sails (2016)
Grimm (2012-2015)
Forever (2015)
Intelligence (2014)
The Tomorrow People (2013)
Devious Maids (2013)
CSI: NY (2004-2012)
The River (2012)
Ringer (2011)
Treme (2011)
The Whole Truth (2010-2011)
Grey's Anatomy (2010)
Three Rivers (2009)
Without a Trace (2003-2005)
CSI: Crime Scene Investigation (2004)
The Wire (2003-2004)
Touching Evil (2004)
Hustle (2004)
The Handler (2004)
MI-5 (2002-2003)
Playing the Field (2002)
The Bill (1999-2001)
Glasgow Kiss (2000)
Casualty (1999)
Directed Episodes
Edit
Grey's Anatomy
Edit
Season 7
External Links
Edit
Ad blocker interference detected!
Wikia is a free-to-use site that makes money from advertising. We have a modified experience for viewers using ad blockers

Wikia is not accessible if you've made further modifications. Remove the custom ad blocker rule(s) and the page will load as expected.