Richard Webber
Talk

3
1,450pages on
this wiki
Richard Webber
Biographical information




Status

Alive

Alias

(The) Chief
Chief Webber
Webber
Julio Plantain
Dick

Title(s)

M.D., F.A.C.S.

Family information
Marital
Children

Miscarried child (boy) with Adele

Others

Arlene Travis (sister-in-law)
Camille Travis (niece)
Unnamed niece
Unnamed aunt †

Professional Information
Profession
Workplace
Character information
First appearance
Last appearance
Seasons
Portrayed By
.
Richard Webber is the former Chief of Surgery and an attending general surgeon, at Grey Sloan Memorial Hospital.
Early Life
Edit
Richard was introduced as the Chief of Surgery, the man of authority on the surgical floor and the final arbiter of any disputes pertaining to his staff and his hospital. Richard started having trouble seeing, and not completing simple surgeries. It turned out that he had developed a tumor, pressing against his optic nerve, and let Derek operate to remove it, under the radar of all the surgical floor. Later, he fought with Derek to write him out for surgery.
Starting Drinking Again
Edit
Richard was late found to be off the wagon and drinking again. This caused him to lose his job as Chief of Surgery for a period of time to Derek Shepherd. He eventually sobered up again and after Derek stepped down following the shooting, he was able to regain the position.
Adele's Alzheimer
Edit
His wife,
Adele
, was diagnosed with Alzheimer's. Throughout the next year, Richard dealt with her Alzheimer's becoming worse. She eventually asked Richard to place her in the
Roseridge Home for Extended Care
.
Not long after that, Adele died of a heart attack after coming out of surgery.
After the Super Storm, Richard appeared to be dead after he was shocked while trying to get the power back on in the hospital.
Personality
Edit
Relationships
Edit
During their residency at Seattle Grace, he had an affair with Meredith's mother, Ellis Grey, although both were married. Although Ellis left her husband, Richard could not bring himself to leave his wife, Adele (he would learn decades later, however, that Adele had known about the affair all along and stayed with him anyway). He confessed in a later episode that he ended the affair because he believed that Ellis deserved better and that he had too much baggage.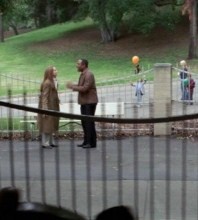 Adele asked him to retire, forcing him to choose between his career or their marriage. He tried to skirt around it, but Adele, tired of waiting, made her choice and left him. He moved out and was sleeping in his office for a short time, but later had a room at the same hotel as Callie. After learning of Ellis's illness, Richard had been visiting her regularly, but upon deciding to attempt a reconciliation with Adele realized that he could no longer continue his emotional affair with Ellis. He attempts to patch things up with his wife, but is stunned to find out that she has apparently moved on to someone else.
Near the end of the third season, Adele is admitted to the hospital and is discovered, first by Addison and later by Richard, to be pregnant (at 52 years old). Though he believes the father to be the man Adele insinuated to be seeing months earlier, Richard stays by Adele's side as she is treated, though complications later arise and she loses the baby. Adele later admits to Richard that the baby, which was a boy, was actually his. At the conclusion of the third season, Richard and Adele decide to give their marriage another try.
Since the beginning of season 4, he and Adele have declared that his work is the reason that their marriage has failed. He moved in with his friend Derek Shepherd in his trailerhome. He is now trying to repair his life as a divorcé.
At the end of season 4, Freedom, Part 2, Richard decides to move back home. He admits to Adele that he made a mistake 20 years ago but he's a good man, and he doesn't treat her as she deserves, putting his foot down. Adele comments "It's about time" and allows Richard to return home.
After Adele is placed in the Roseridge Home for Extended Care after being diagnosed with Alzheimer's and finds a new love, Richard begins to date Catherine Avery.
Richard and Catherine maintained a flirtatious relationship throughout her first two visits to Seattle Grace Mercy West. He almost accompanied her to a medical ball, but he realized he needed to be with his wife in her time of need. By the time of the medical boards, Adele's condition had deteriorated to the point she did not recognize Richard anymore and had begun "dating" another man. This was when Catherine and Richard began their sexual relationship. When Adele died, Richard pushed away Catherine and her efforts at a relationship.
Friendships
Edit
Richard met Miranda as an intern at Seattle Grace Hospital. He discovered her talent when she correctly diagnosed a patient after 3 months of unnecessary surgeries. 
When he was a drunk, she was the only one that managed to make him admit it and sign the papers to go into rehab instead of signing the papers for an early retirement.
He was the Chief of Surgery at Seattle Grace and was formerly mentor to Derek Shepherd and Addison Forbes Montgomery during their residency.
There are continuity errors regarding where exactly Richard built his career; at one point, he states that with the exception of his fellowship, he spent his entire career at Seattle Grace. However, it is also established that he both taught and befriended Addison and Derek, presumably in New York (the majority of references within the show, as well as additional sources, indicate that a good portion of Richard's career was spent in Manhattan, rather than Seattle).
A board member regards Richard as the best surgeon in the hospital, and is demonstrated on the occasion in the robotics lab where he takes the course as a "refresher", and he pits himself against Cristina Yang, losing in the first few tasks. In the last task, performing a minor operation, Richard manages to complete the surgery with his eyes closed, while Cristina struggles to get ahead. When asked how he managed to do so, he claims muscle memory - he is so used to these procedures knows how to perform the surgery with his eyes closed.
Richard had planned to retire and recommended Preston Burke as his successor, but after the secret of Burke's tremor and cover-up came out, that plan was put to a stand-still. Nevertheless, he has told the hospital board of his retirement and has yet to name his successor; Derek, Preston, Addison and Mark all eagerly clamoring for the post. Richard eventually chose Derek, but Derek tells him that Richard should remain chief.
In an attempt to move back home, Richard begins to delegate some of his work to other staff with responsibilities, such as the chief resident, at the time being Callie Torres, but as she was slightly unaware of what to do exactly, Miranda Bailey eventually replaces her, reducing Richard's burden. To assist with this further, he enlists  George O'Malley to become the chief's intern to assist with some of his day to day duties, such as passing messages, phone calls, charting, pre-op and post-op patients amongst other things, until George finally had enough after learning he failed his intern exam by 1 point.
In Season 6 after the Death of O'Malley and throughout the merger with Mercy Grace, Richard comes under a massive amount of stress. He makes a mistake on a patient that brings to the attention of Bailey that something is wrong. Eventually he takes Meredith under his tutelage where she finally figures out that he had started to drink again. Meredith eventually tells Derek and Derek brings it to the attention of the board who force Richard to resign as chief and his responsibilities as a doctor; Derek takes over his position as chief of surgery.
After a numerous number of days sober, Richard finally returns to being a general surgery attending under Shepherd. He is the doctor that was on the case of Gary Clark's wife and did her surgery. She did not recover however and died leaving Clark with a vendetta against him. In the Season finale of Season 6, Clark returns and begins to shoot people, mainly surgeons, in the hospital. Webber was not present at the time but once he hears what is going on he finds a way into the hospital and confronts Clark, who ultimately commits suicide.
In the beginning of Season 7, Derek resigns as chief surgeon, leaving Richard as interim chief until the board agree to let him come back full-time as the chief of surgery.
In Season 8, Richard takes the fall for Meredith's tampering of a clinical trial for Alzheimer's which could help Adele. He resigns as chief and helps Owen Hunt obtain the job as his successor. He has since been a senior general surgery attending.
In season 9, Richard invests money to buy Seattle Grace Mercy West Hospital, which was later renamed to Grey Sloan Memorial Hospital. 
Notes and Trivia
Edit
He was a recovering alcoholic ("Superstition").
When he drinks, he drinks vodka.
His favorite cake is red velvet with cream cheese icing.
He and Adele married when she was 25.
He proposed to Adele on New Year's and got married the Valentine's Day after.
In 2004, Webber won a plaque for "best doctors in America".
His email address is rwebber@seattlegrace.com.
He taught a painful lesson to Addison about getting to close to her patients by giving her a patient who would eventually die. This resulted in her avoiding him for almost a year. She eventually taught Izzie Stevens the same lesson.
As Richard is a part-owner of Grey Sloan Memorial Hospital, he has a seat on the board as a member.
During the first two episodes of season one, Richard has M.D., Ph.D, and F.A.C.S on his lab coat, however, subsequent episodes only shows M.D. and F.A.C.S. Additionally, his lab coat has three lines of embroidery versus the standard two with chief surgeon lab coats.
He met Ellis Grey when Meredith was three.
Richard is one of the "Grey Sloan Seven".
Richard is the only original character of whom we haven't seen any of his parents.
| | |
| --- | --- |
| | A more complete gallery with pictures of Richard Webber can be found here. |
Notable Episodes
Edit
Memorable Quotes
Edit
Appearances
Edit
Grey's Anatomy, Season 1
A Hard Day's Night · The First Cut Is the Deepest · Winning a Battle, Losing the War · No Man's Land · Shake Your Groove Thing · Who's Zoomin' Who?
Grey's Anatomy, Season 2
Raindrops Keep Falling On My Head · Enough is Enough · Make Me Lose Control · Deny, Deny, Deny · Bring the Pain · Into You Like a Train · Something to Talk About · Let It Be · Thanks for the Memories · Much too Much · Owner of a Lonely Heart · Grandma Got Run Over By a Reindeer · Begin the Begin · Tell Me Sweet Little Lies · Break on Through · It's the End of the World · As We Know It · Yesterday · What Have I Done to Deserve This? · Band-Aid Covers the Bullet Hole · Superstition · The Name of the Game · Blues for Sister Someone · Damage Case · 17 Seconds · Deterioration of the Fight or Flight Response · Losing My Religion
Grey's Anatomy, Season 3
Time Has Come Today · I Am a Tree · Sometimes a Fantasy · What I Am · Oh, the Guilt · Let the Angels Commit · Where the Boys Are · Staring at the Sun · From a Whisper to a Scream · Don't Stand So Close to Me · Six Days, Part 1 · Six Days, Part 2 · Great Expectations · Wishin' and Hopin' · Walk on Water · Drowning on Dry Land · Some Kind of Miracle · Scars and Souvenirs · My Favorite Mistake · Time After Time · Desire · The Other Side of This Life, Part 1 · The Other Side of This Life, Part 2 · Testing 1-2-3 · Didn't We Almost Have It All?
Grey's Anatomy, Season 4
A Change is Gonna Come · Love/Addiction · Let the Truth Sting · The Heart of the Matter · Haunt You Every Day · Kung Fu Fighting · Physical Attraction... Chemical Reaction · Forever Young · Crash Into Me, Part 1 · Crash Into Me, Part 2 · Lay Your Hands on Me · Where the Wild Things Are · Piece of My Heart · The Becoming · Losing My Mind · Freedom, Part 1 · Freedom, Part 2
Grey's Anatomy, Season 5
Dream a Little Dream of Me, Part 1 · Dream a Little Dream of Me, Part 2 · Here Comes the Flood · Brave New World · There's No 'I' in Team · Life During Wartime · Rise Up · These Ties That Bind · In the Midnight Hour · All By Myself · Wish You Were Here · Sympathy for the Devil · Stairway to Heaven · Beat Your Heart Out · Before and After · An Honest Mistake · I Will Follow You Into the Dark · Stand By Me · Elevator Love Letter · Sweet Surrender · No Good at Saying Sorry (One More Chance) · What a Difference a Day Makes · Here's to Future Days · Now or Never
Grey's Anatomy, Season 6
Good Mourning · Goodbye · I Always Feel Like Somebody's Watchin' Me · Tainted Obligation · Invasion · I Saw What I Saw · Give Peace a Chance · Invest in Love · New History · Holidaze · Blink · I Like You So Much Better When You're Naked · State of Love and Trust · The Time Warp · Perfect Little Accident · Push · Suicide is Painless · Sympathy for the Parents · Hook, Line and Sinner · How Insensitive · Shiny Happy People · Sanctuary · Death and All His Friends
Grey's Anatomy, Season 7
With You I'm Born Again · Shock to the System · Superfreak · Can't Fight Biology · Almost Grown · These Arms of Mine · That's Me Trying · Something's Gotta Give · Slow Night, So Long · Adrift and at Peace · Disarm · Start Me Up · Don't Deceive Me (Please Don't Go) · P.Y.T. (Pretty Young Thing) · Golden Hour · Not Responsible · This is How We Do It · Song Beneath the Song · It's a Long Way Back · White Wedding · I Will Survive · Unaccompanied Minor
Grey's Anatomy, Season 8
Free Falling · She's Gone · Take the Lead · What is It About Men · Love, Loss and Legacy · Poker Face · Put Me In, Coach · Heart-Shaped Box · Dark Was the Night · Suddenly · This Magic Moment · Hope for the Hopeless · If/Then · All You Need is Love · Have You Seen Me Lately? · If Only You Were Lonely · One Step Too Far · The Lion Sleeps Tonight · Support System · The Girl with No Name · Moment of Truth · Let the Bad Times Roll · Migration · Flight
Grey's Anatomy, Season 9
Going, Going, Gone · Remember the Time · Love the One You're With · I Saw Her Standing There · Beautiful Doom · Second Opinion · I Was Made for Lovin' You · Love Turns You Upside Down · Run, Baby, Run · Things We Said Today · The End is the Beginning is the End · Walking on a Dream · Bad Blood · The Face of Change · Hard Bargain · This is Why We Fight · Transplant Wasteland · Idle Hands · Can't Fight This Feeling · She's Killing Me · Sleeping Monster · Do You Believe in Magic · Readiness is All · Perfect Storm
Grey's Anatomy, Season 10
Seal Our Fate · I Want You With Me · Everybody's Crying Mercy · Puttin' on the Ritz · I Bet It Stung · Map of You · Thriller · Two Against One · Sorry Seems to Be the Hardest Word · Somebody That I Used to Know · Man on the Moon · Get Up, Stand Up
Private Practice, Season 1
Private Practice, Season 2