Poker Face
Talk

0
1,003pages on
this wiki
Poker Face
Season 8, episode 6
Mark and Arizona cooked for Callie.
Episode Information
Airdate

October 20, 2011

Written by
Directed by
Episode Guide
Previous
Next
.
"As babies, we were easy. One cry meant you were hungry, another you were tired. It's only as adults that we become difficult. We start to hire feelings, put up walls. It gets to the point where we never really know what anyone thinks or feels. Without meaning to, we become masters of disguise. It's not always easy to speak your mind, sometimes you need to be forced to do it. Sometimes, it's better to just keep things to yourself, play dumb, even when your whole body is aching to come clean. So you shut your mouth, keep your secret, and find other ways to keep yourself happy."
Poker Face is the sixth episode of the eighth season and the 154th overall episode of Grey's Anatomy.
Short Summary
Edit
After being blackballed by most of the surgeons, Meredith uses Lexie to spark Derek's interest in her patient's rare brain tumor case and, in secret, gives guidance to April with Bailey's clinical trial; Callie's wish for Arizona and Mark to form a friendship comes to fruition and she realizes it's more irritating than helpful; Alex and Teddy research alternative surgeries for a very superficial patient; and Callie and Cristina struggle with a very difficult spinal surgery.
Full Summary
Edit
Meredith delivers a baby and voiceover Mere talks about how it's only as adults that we become a mess. Sloan and Arizona are working together to give Callie breakfast in bed. Bailey is struggling with the diabetes trial and April thinks they should tell Webber about it. Bailey doesn't want to.
Cristina mocks Meredith for "slumming" in O.B. Owen is giving a speech about a new limit of 10 bad outcomes in their O.R.s or risk not getting a fellowship the next year. April has two and Alex laughs. Owen then announces that Alex has five. Cristina isn't paying enough attention, so Owen calls her out. Cristina brags about her zero bad outcomes, and says she plans to continue that over the weekend working in ortho.
Lexie is having trouble adjusting to Derek's "quirks." She's working with him now and asking Meredith for advice on how to deal with him. Meredith isn't giving all her secrets away.
Callie complains to Cristina that she hasn't had much "alone" time with Arizona. Cristina is in for a surprise when she meets her patient for her weekend ortho stint: a young man who suffers from a degenerative bone disease that was made worse when he was in a car accident two years earlier. It's all left him with a condition in which he can't raise his head. Callie says she and Cristina are going to build him a new neck in a three-day, three-part surgery.
Meredith get a 911 page and finds a patient ready to deliver a baby. She soon learns the woman has a brain tumor.
The baby is fine, but Meredith tells Lexie about the new mother's "butterfly tumor." It will spread to both sides of the brain and means the woman probably six months to live. Meredith asks Lexie to get Derek to review the case.
Cristina asks Alex to switch shifts, but he doesn't want to do it. Alex and Teddy meet their patient, a 71-year-old man who needs open-heart surgery. He doesn't want the scar because it's going to ruin his chances with the ladies. He's pretty certain he doesn't look much older than 60.
Derek, Owen and Sloan have a dudes' moment. Derek's frustrated with the residents, Sloan is offering homemade scones and Owen is having trouble reading budget reports. Derek leaves after a nurse says Lexie needs him urgently.
Cristina and Callie are in surgery when Cristina gets a text on her phone. Callie asks a nurse to read the text aloud, because she knows Cristina gets texts from Owen throughout the day so they can meet up and have sex. Cristina avoids the reading aloud, but she'll be embarrassed a few moments later when she meets Owen in the conference room. They're getting busy under the table when Webber walks in. Cristina leaves and Webber tells Owen he's a chief now and should "act like it."
Lexie tells Derek about the new mother with the butterfly tumor. Derek is upset that Lexie hasn't found an article he asked her to find, and says he should tell the woman her tumor is inoperable.
Callie's patient is resting after the first portion of his surgery. His parents bicker over who should stay the night and it's clear he wants them to leave. After they're gone, he tells Callie that as soon as he's better he's moving out. He wants peace and quiet. He closes his eyes and Cristina sneaks in to tickle his feet. She tells him she's going to check his reflexes every half-hour to make sure he hasn't suffered any after-effects from the surgery.
That night, Meredith asks Derek if he has any interesting cases and when he doesn't say much, she thinks Lexie didn't tell him about the butterfly tumor. She interrupts Lexie's shower to ask why she didn't show Derek the scans. She tells Lexie to make sure he knows it's in the frontal lobe and that he should meet the patient.
April is swamped and trying to cover several things at once. She asks Alex to cover the E.R. and he blows her off, making fun of her annoying, high pitched voice when she gets worked up.
The next morning, the neck patient's parents show up and proceed to bicker. Meanwhile, Lexie finally gets Derek to look at the butterfly tumor scans. He smiles and meets the patient, whose husband is surprised because every other surgeon has said it's inoperable.
April wants Meredith to work on one of the diabetic mice. Cristina thinks it's a bad idea and when April declares, "I am your chief resident," both Meredith and Cristina laugh out loud. April gets serious, though, dropping the tone of her voice and telling Meredith that if she doesn't do as directed, she'll make her life a living hell. Meredith agrees to do it. Cristina gets another text from Owen. Meredith asks if they're talking or just having sex. Cristina doesn't really address this.
Alex's heart patient wants a TAVI, a risky procedure that would leave hardly any scarring. Alex thinks it's a bad idea, but Teddy tells him to check it out and determine whether he's a candidate.
Webber corners Meredith and asks about his lab rats. She tells him some of them are hypoglycemic and they don't know why. They're running tests. He tells her what to do next and takes off.
Callie and Cristina are in surgery and Callie's struggling with one part. Cristina suggests an alternate approach, but Callie refuses to do it. Callie decides to close him up until they come up with a different game plan.
Derek tells the butterfly tumor patient he thinks he can remove the tumor. She's excited at the possibility, but her husband is still skeptical, saying that their new baby needs those first six months with her.
At their confab, Alex tells Cristina about his heart patient and she says a TAVI is "asking for a bad outcome." Meredith tells April to get a healthy mouse so she can compare the unhealthy ones to it. April does this. Lexie comes in and tells Meredith about the husband's resistance to letting Derek remove his wife's brain tumor. Lexie only "kind of" told the husband how good Derek is, and Meredith says she'll have to convince the man herself.
Alex, then, goes to tell his patient he isn't going to do a TAVI on him. "It's a stupid scar," he tells the man. "Do you really want to die over it?"
Callie gets home and starts to make out with Arizona when Sloan walks in with braised short ribs for dinner. Callie is annoyed. Back at the hospital, Owen and Cristina start to go at it again in the on-call room when they hear a pager going off. It's Webber's. He was sleeping in the bunk above them.
Meredith finds the husband of the brain tumor patient outside. Meredith explains to him that his wife wants more time with the baby. He says he wants more time with her and that he's not ready for her to die. "She's not either," Meredith tells him. "She's not either, and that's why she wants to fight."
We next see the woman being wheeled into the O.R. She's holding her baby. She and her husband both get emotional as she prepares to hand the baby off. She gets through it, though, and her husband's eyes fill with tears as he watches Derek and Lexie wheeled his wife away. Derek turns back to give the man a confident nod.
Callie is again struggling in her surgery on the neck patient and Cristina again suggests a standard fusion rather than a reconstruction. Callie says her alternative solution sucks. When they lose the patient's heartbeat, Cristina says she's out. She wants to be off the case. A nurse realizes an electrode simply fell out and when Callie puts it back in, the patient's heartbeat registers again. Callie then tells Cristina her name's off the case. Callie prepares for her next step in the surgery and Cristina is intrigued, but Callie tells her to leave the O.R.
Meredith covertly reports back to Webber about the comparisons between the mice. They figure out what they think is happening and when Meredith tells April about her research, Bailey walks in. Enraged, Bailey tells Meredith she should not be involved with another trial after having ruined one. When April says she delegated the trial work to Meredith, Bailey fires April from the trial. Bailey goes to take her mouse back and Meredith gets in Bailey's face, telling Bailey to read her research. She drops her voice a bit when she says it, and Bailey reluctantly takes it before she leaves. Meredith turns back to April and smiles, saying the voice thing "kind of works."
Derek sees a bit of an obstacle in removing the brain tumor, and says it's "smart." Lexie tells him there was no shame in trying, but Derek says they aren't giving up. When she reminds him he said the tumor is "smart," Derek replies, "We're smarter."
After surgery, Callie tells Cristina she's playing it too safe. She tells Cristina, "Don't let fifth year get to you."
Meredith takes a seat in the waiting room with the husband of the brain tumor patient and looks at his new baby. Meanwhile, Derek runs into trouble in surgery and decides he has to go into the woman's brain blind to save it.
Derek comes out of surgery bleary-eyed. He tells his patient's husband, "We got it. We got the whole tumor." The man cries and tells his baby, "You have a mommy." Derek watches this and doesn't realize Meredith is standing behind him. She walks away before he notices.
Alex sees his heart patient getting prepped for a TAVI. When he learns that Teddy is going to do it herself, he tells her he shouldn't be punished for being cautious. She tells him he can, because "the only thing worse than a bad surgeon is a scared one."
Callie's neck patient is recovering in his room and his throat seems a bit tender. His parents get into another argument and he pushes through his painful throat a shout for them to just get a divorce. He says he realizes they stayed together so he could finish high school, then college, then the accident happened, but now he's better and they should split because they hate each other. After they leave the room, Callie asks how that felt, and he says, "Awesome."
In a dark lab, Bailey reads Meredith's research. Webber walks in and she confesses to him that some of the mice are hypoglycemic and she's been trying to figure out why. She says Meredith figured it out. When she worries about how much work she has to do, Webber tells her to get some help. She tells him she fired April and will not allow Meredith to work on it. He assures her help will arrive and sends her on her way. Webber then tells one of the mice, "I've got your back."
At the bar, Lexie tells Jackson about Derek's surgery and Alex tells them about how Teddy called him a chicken. April shows up and tells Alex what he said to her about her voice was mean, and he makes fun of her again, saying she sounds like a mosquito. She tells him that's changing. She hands out assignments to Lexie and Jackson for the next day and tells Alex he's working nights in the E.R. for the next week. "Any of you argue with me and I'll take you off the O.R. board indefinitely," she adds. Then she says she got fired from Bailey's trial, so she's "going to spend the night drinking and flirting with boys." She downs the rest of Alex's beer and walks away.
Owen tells Cristina they can't have sex in the hospital anymore, then asks if she wants to get dinner. She's hesitant, then suggest they go home and have sex there. So that's what they do.
Callie brings home a pizza and tosses Sloan's coq au vin in the trash. She tells him she thinks he's great and loves how he is with the baby, but she needs him to leave so she can have sex with Arizona. And he's babysitting. Since she just threw away his dinner, she gives him one slice of pizza.
Derek comes home and lays in bed next to Meredith. He says he had such a good day at the hospital he wants to break their rule and tell her about it. She smiles and tells him, "Don't." He asks if she's sure. She says nothing and they kiss.
Main cast
Edit
Guest stars
Edit
Lee Majors as Chuck Cain
Marilu Henner as Mrs. Moser
Dash Mihok as Clay
Joelle Carter as Mary
Sam McMurray as Mr. Moser
Jake Abel as Tyler Moser
Co-Starring
Edit
Sharon Muthu as Fran
Arlene Santana as OB Nurse
Linda Eve Miller as OR Nurse
Rachel Andersen as Floor Nurse
Medical Notes
Edit
| Song | Performer | Scene |
| --- | --- | --- |
| "Holy Moses" | Washington | |
| "Daydreams" | Olivia Broadfield | |
| "Blood Bank" | Bon Iver | |
| "Got It, Lost It" | Big Scary | |
| "For You" | Tin Sparrow | |
Notes and Trivia
Edit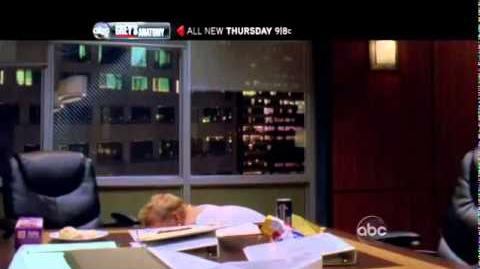 This episode's title originated from the song Poker Face, originally sung by Lady Gaga.
This episode scored 9.54 million viewers.
Episode Stills
Edit
Behind the Scenes
Edit
---
---
---