No Good at Saying Sorry (One More Chance)
Talk

0
1,442pages on
this wiki
No Good at Saying Sorry (One More Chance)
Season 5, episode 21
Izzie's mother visits her sick daughter.
Episode Information
Airdate

April 30, 2009

Written by
Directed by
Episode Guide
Previous
Next
.
"Remember when we were little and we would accidentally bite a kid on the playground. Our teachers would go, "Say you're sorry", and we would say it, but we wouldn't mean it because the stupid kid we bit, totally deserved it. But as we get older, making amends isn't so simple. After the playground days are over you can't just say it, you have to mean it. Of course when you become a doctor, sorry is not a happy word. It either means you're dying and I can't help. Or it means this is really going to hurt. As doctors we can't undo our mistakes, and we rarely forgive ourselves for them, but it's a hazard of the trade. But as human beings we can always try to do better, to be better, to right a wrong even if it feels irreversible. Of course, "I'm sorry" doesn't always cut it. Maybe because we use it so many different ways: as a weapon, as an excuse. But when we are really sorry. When we use it right. When we mean it. When our actions say what words never can. When we get it right, "I'm sorry" is perfect. When we get it right, "I'm sorry" is redemption."
No Good at Saying Sorry (One More Chance) is the twenty-first episode of the fifth season and the 99th overall episode of Grey's Anatomy.
Short Summary
Edit
Thatcher comes to Seattle Grace to make amends, at the same time Izzie's mother comes to visit. Owen ignores Cristina all day, tension rises between Richard and Meredith and the hospital gets busy treating a man who was shot by his six year old daughter.
Full Summary
Edit
Episode in detail.
Main Cast
Edit
Guest Stars
Edit
Co-Starring
Edit
Medical Notes
Edit
| Song | Performer | Scene |
| --- | --- | --- |
| "Brand New" | Emilie Mover | |
| "Stay Over" | The Rescues | |
| "So Far From Me" | Brett Dennen | |
| "Turn and Turn Again" | All Thieves | |
| "Wedding Ring" | The Hard Lessons | |
Notes and Trivia
Edit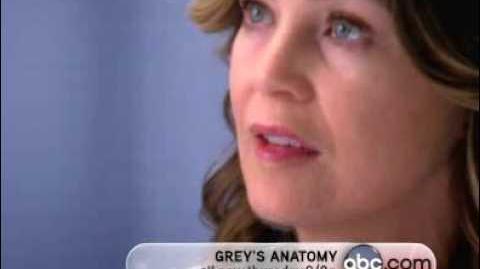 This episode's title originated from the song No Good at Saying Sorry, originally sung by The Early November.
This episode scored 14.12 million viewers.
Goof: George can't count the gunshots: 5+2+9 is 16 not 17.
Goof: As Meredith walks past Derek and the Chief, we see Derek stick his hands in his pockets. In the next camera shot, Derek's hands are at his side, and neither he nor the Chief are turned as far as they were in the previous shot.
Episode Stills
Edit