New History
Talk

0
1,005pages on
this wiki
New History
Season 6, episode 9
Mark talks to Teddy Altman, the new cardiothoracic surgeon at the hospital.
Episode Information
Airdate

November 12, 2009

Written by
Directed by
Episode Guide
Previous
Next
.
"Doctors live in a world of constant progress and forward motion. Stand still for a second, and you'll be left behind. But as hard as we try to move forward, as tempting as it is to never look back, the past always comes back to bite us in the ass. And as history shows us again and again, those who forget the past are doomed to repeat it. Sometimes the past is something you just can't let go of. And sometimes the past is something we'll do anything to forget. And sometimes we learn something new about the past that changes everything we know about the present."
New History is the ninth episode of the sixth season and the 111th overall episode of Grey's Anatomy.
Short Summary
Edit
When Owen recruits his fellow Iraqi War vet, Dr. Teddy Altman, as the new cardiothoracic surgeon, Cristina questions Teddy's abilities in the OR and the nature of their past relationship. Meanwhile Izzie returns to Seattle Grace with her high school mentor seeking treatment for his dementia, and the stress of Richard's responsibilities, post-merger, are taking their toll.
Full Summary
Edit
Just as voiceover Meredith was talking about things from your past coming back to bite you in the ass, Izzie walked into the hospital, wheeling an old guy named Dr. Singer. Izzie said she'd been in Chehalis with her mom and she'd kidnapped Dr. Singer, her old high school science teacher who suffered from Alzheimer's. She wanted Dr. Singer to get in to see Derek. Izzie refused to go see Alex.
Dr. Avery wanted to talk to Cristina about "the kiss," and she said "there was no kiss." Hunt found Cristina and told her he got her a present -- a cardio goddess. Dr. Teddy Altman, played by Kim Raver, served in Iraq with Hunt and would be working at Seattle Grace Mercy West for a while.
Adele showed up at the hospital telling Bailey the chief didn't come home the night before. Lexie ran up also saying she couldn't find the chief.
Derek was checking out Dr. Singer, who was saying that Izzie was going to be a doctor someday. Izzie told Derek she was worried Dr. Singer might have fallen and suffered bleeding in his brain. Izzie was telling Cristina that she'd received her cancer treatments at another hospital when Alex walked up. No one said anything and Alex walked away.
Cristina was trying to get some background on the mysterious Dr. Altman, who was in awe of Seattle's rain. Hunt told Cristina there was "no story" with him and Teddy, they were just friends. Cristina wasn't convinced that Teddy was a cardio goddess. Avery noticed their conversation and said, "I guess you do have a boyfriend."
Dr. Singer woke up in a panic and unaware of how he'd gotten to Seattle. He struggled to get away from Izzie and fell, hitting his face on the floor. Izzie wanted to get Dr. Singer a spinal tap. She coaxed Charles into doing it by threatening to tell Reed that he loves her.
Teddy was working on an older woman when she was a little flummoxed as to how to do a certain procedure she said she hadn't done in 10 years because she was mostly working on young men in the Army. Cristina left to talk to the chief.
Meredith gave Alex the update on Izzie. He said nothing and Meredith left.
The chief told Bailey he was up all night working on the budget. Cristina came to the chief and said Teddy didn't know how to put in a temporary pacemaker. Bailey heard this and suggested to Cristina that maybe she was the problem because she'd run off every attending cardio surgeon who'd been brought in since Burke left. Bailey sent the chief off into surgery and turned to see Adele waiting for news. Then Adele asked Bailey, in front of some of the other doctors, if she was having an affair with the chief.
Callie told Adele that Bailey was the chief's "work wife." Adele said the chief hadn't been home all week and Bailey assured her that she was not sleeping with the chief. Adele was still convinced somebody was sleeping with him.
Cristina was working with Teddy and was showing off how much more she knew than Teddy did.
Bailey went to talk to the chief about how a man in his position has "certain needs," and he cut her off by asking if she was hitting on him. She told him about Adele asking if they were having an affair, then clarified, leaving no doubt, that she was not hitting on him.
Meredith told Derek she hadn't been able to get on a surgery all day. She said she'd kept trying to capture the "five seconds" when everyone was happy, when 'hit-by-a-bus guy' wasn't George, just after Izzie had gotten out of surgery and she and Derek had done their Post-It wedding.
Izzie went to see Dr. Singer, who was suddenly lucid and completely aware of his surroundings. Lexie went to Bailey looking for the chief and Bailey didn't want Lexie or Reed (who was nearby) anywhere close to the chief. Lexie wanted to tell him that his patient was turning yellow.
Bailey tried to figure out why the man turned yellow. Lexie and Reed wondered whether the chief might have cut the common bile duct. Bailey said that was one of the worst mistakes a surgeon could make and she got defensive about the chief, telling Lexie and Reed not to tell anyone anything.
Dr. Singer had a condition that resulted in spinal fluid in his brain. Derek said he could fix it was a simple surgery, but Dr. Singer said he couldn't afford it. Izzie asked Derek if he could do it pro bono and Derek said he'd do it if the chief signed off.
At lunch, Teddy told the other doctors that Cristina could be the best resident she's ever seen, but she realized that Cristina doesn't like her very much. During the course of conversation, Teddy realized that Cristina was Hunt's new girlfriend. At another table, Cristina mocked Teddy, calling her "Private Benjamin" and saying she didn't know how to do any surgeries.
The chief hedged on Izzie's request for Dr. Singer's pro bono surgery, but she pulled out the big guns by reminding him about the $8 million she gave the hospital for the clinic and said she had no problem going to the board or the press to get the surgery done.
Teddy went to see a boy who Cristina and Avery were treating. The boy had asthma and Teddy noticed something on the monitor. She asked a few questions and listened to the boy's breathing. She told Cristina to book and O.R. and Cristina questioned her. Teddy said the boy had cardiac asthma and that the seizures he'd had were actually small heart attacks. She also told Cristina, "I'm you're attending, and when I tell you book an O.R., book and O.R." Teddy walked away and Arizona told Cristina, "I like her."
Bailey went to the chief and asked if he was having an affair with Izzie. He laughed. She handed him the file on the yellow patient and told him it seemed he may have accidentally clipped he common bile duct. She told him they caught it early enough that they could fix it. The chief got serious and Bailey told him no one knew about it -- "and no one's going to know." She told him to get a handle on whatever was distracting him.
In surgery, Arizona commented on the birds on Teddy's scrub cap. Teddy asked Cristina to assist on repair the boy's heart. "Maybe we'll both learn something today," Teddy said. Something went wrong and Teddy left it to Cristina to figure out what to do next. Cristina figured it out and Teddy walked her through the rest of the process.
Izzie watched as Derek operated on Dr. Singer, and Alex came into the gallery and asked her if she was back. She asked him if he wanted her to be back because he got her fired. She said she'd forgiven him for a lot, but she couldn't forgive him for that. He said she made an assumption without giving him the benefit of the doubt. He said he couldn't forgive her either, and he walked out.
The chief told Bailey he wasn't having an affair. He said he'd decided to take a step back from surgery because he couldn't afford another mistake. He asked Bailey to take his place in surgery for the time being.
Izzie went to Dr. Singer, who said he felt perfect after surgery.
Cristina came into the locker room boasting to Meredith about what she'd done, and she agreed with Meredith that maybe Teddy was a cardio god. The chief handed Bailey his patients' files and left, exhausted. Bailey told Callie she'd lost her work husband.
Outside, Teddy told Hunt she thought he would've called her if and when he broke up with his fiancee, Beth. She said it must have all been in her head and said that she could now "let that story go." She left and Hunt watched her walk away. Cristina immediately walked up to him and kiss him, thanking him for her present.
Cristina told Hunt she would get over Teddy's birds on her scrub cap. Hunt explained to Cristina that Teddy's best friend was a bird person, and she "died in the second tower" and that was why Teddy gave up her attending position at Columbia and joined the Army. "I told you she would surprise you," Hunt said.
The chief was at the bar and Joe the bartender asked him if he was going home or back to the hospital. The chief said, "One more club soda, then home." Joe asked the chief for his keys, then inconspicuously poured a glass of vodka on the rocks and told him he'd call him a cab when he was done. As the chief sipped the drink, he flashed back to some of the more dramatic moments in recent memory, reflecting on the some of the recent stresses of the job.
Voiceover Meredith said that "sometimes we learn something new about the past that changes everything we know about the present," just as real Meredith noticed the chief drinking. Their eyes met for a moment before the chief got up and walked out, leaving Meredith to glance at the nearly empty glass he left on the bar.
Main Cast
Edit
Guest Stars
Edit
Co-Starring
Edit
James DuMont as Sheldon Morris
Heather Corwin as Casey's Mom
Mason Cook as Casey
Medical Notes
Edit
| Song | Performer | Scene |
| --- | --- | --- |
| "Sunny Day" | Joy Williams | |
| "Vertical Rhythm" | Gossip | |
| "End of All Time" | Stars of Track and Field | |
| "In Spite of Me" | Greg Laswell | |
| "Poison & Wine" | The Civil Wars | |
Notes and Trivia
Edit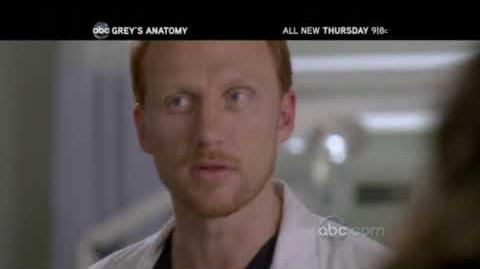 This episode's title originated from the song New History, originally sung by Andy Davis.
This episode scored 14.87 million viewers.
At the beginning, Meredith is shown to know that Izzie had a teen pregnancy. However, the last time that subject was mentioned in the show was in the 3rd season and only George & Bailey knew about it.
When Cristina is doing the angioplasty and showing off her skills, her patient is Gary Clark and presents with ST Elevation and a blockage in the LAD (Left Anterior Descending). This may be the Gary Clark from Sanctuary, who shoots various doctors and in the end kills himself after losing his wife.
Episode Stills
Edit
---
---
---
---
---
---
---
---
---
---