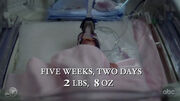 Neonatal surgery is a surgical sub-specialty of pediatric surgery that consists of the surgical care of newborn infants, especially ill or premature newborn infants. Practicing surgeons exclusively focusing on neonates, infants in the first 28 days after birth, are called neonatal surgeons, and heavily coordinate with a hospital's NICU. Neonatal surgeons often perform corrective surgeries, including chest, abdominal, and urological defects. Neonatal surgeons are also heavily involved in the post-operative care of patients.
Neonatal surgery is the surgical counterpart to neonatology.
Notable Neonatal Surgeons
Edit
Notes and Trivia
Edit
Although pediatric surgeons are capable of performing neonatal surgeries, neonatal surgeons are far more skilled in this area.
There are only 8 people in the world, including Addison, who can perform neonatal surgery on a world-class level.
Ad blocker interference detected!
Wikia is a free-to-use site that makes money from advertising. We have a modified experience for viewers using ad blockers

Wikia is not accessible if you've made further modifications. Remove the custom ad blocker rule(s) and the page will load as expected.