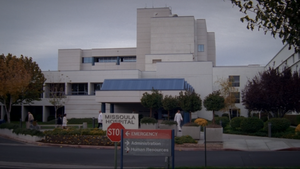 Missoula Hospital is a hospital located in Missoula, Montana.
Kidney Transplant
Edit
Meredith and Jo flew to Missoula to pick up a kidney for Jaylen Donovan. When they entered the OR, a surgeon was closing up the donor. They asked where their kidney was and the surgeon looked confused. Meredith went outside to make a phone call while Jo was fighting with another surgeon. She thought that the surgeon was taking their kidney and asked for the paperwork to prove that it was not their kidney. Meredith then came back in and told them it indeed was not their kidney: their kidney hopped on a flight to Seattle. They didn't know how that could happen, and went back to Seattle. It turned out that when Missoula Hospital called to Seattle Grace Mercy West, a nurse told them to put the kidney on a plane as an unaccompanied minor, as this is what the Pegasus protocol dictated. ("Transplant Wasteland")
Notes and Trivia
Edit
As proven by the direction sign in the parking lot, the hospital has an emergency room.
Ad blocker interference detected!
Wikia is a free-to-use site that makes money from advertising. We have a modified experience for viewers using ad blockers

Wikia is not accessible if you've made further modifications. Remove the custom ad blocker rule(s) and the page will load as expected.