Meredith's House
Talk

0
3,864pages on
this wiki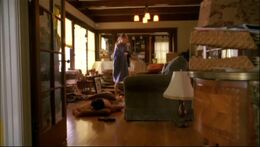 Meredith's House is a large house in Seattle on Queen Ann Hill now owned by Alex Karev. Both Meredith's mother (Ellis Grey) and her grandmother lived there. When given to Meredith, she was initially going to sell it, but instead decided to get some roommates. Throughout the show, Meredith has been known for bringing home strays.
Inhabitants
Edit
Current Inhabitants
Edit
Former Inhabitants
Edit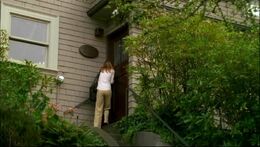 Visitors
Edit
Important Events
Edit
Cristina and Owen have their wedding in the house.
Meredith and Derek finally are granted full custody over Zola.
Notes and Trivia
Edit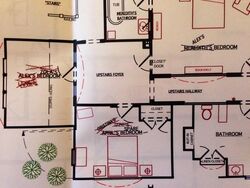 Even before she moved in, Cristina had keys to the house, allowing her to enter it at any time.
Cristina also spent several nights in the house before she moved in.
The only two characters from the main cast never to have visited Meredith's house are Addison and Erica. Everyone else has visited at least once.
Meredith sometimes hides her tequila in the cookie jar.
There is a swinging bench at the front of the house that could not swing because Thatcher had stuck a nail in a part of it because Meredith used to catch her fingers in it.
When George and Izzie moved in, they argued over their rooms.
Sadie slept on the couch.
Lexie slept in the attic.
When Derek moved in, he tried to get Alex and Izzie to move out. When Izzie found another apartment, she showed it to Cristina, hoping they could live there together, but Cristina misinterpreted and moved in there with Callie. Alex decided he would sleep in his car.
Callie calls it the Frat house.
Alex Karev bought the house from Meredith early in season nine.
The fictional address of the house is 613 Harper Lane.
The address of the house used for exterior shots is 303 Comstock St., Seattle, WA.
The house has marks on the ceiling from the Christmas tree from their intern year, marks on the floors from the party Izzie threw, and scratches on both sides of the doorjamb, which are Zola's height marks on one side and Meredith's on the other.