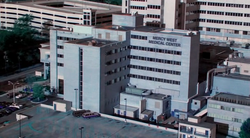 Mercy West Medical Center was a rival teaching hospital to Seattle Grace Hospital in Seattle, which has been described as on "the other side of town." In season six, Mercy West merged with Seattle Grace.
Power Outage at Seattle Grace
Edit
When the power went out at Seattle Grace Hospital, incoming trauma patients were rerouted to Mercy West. ("Bring the Pain")
Donor Heart
Edit
Preston Burke and Erica Hahn fought over a donor heart for their patients. ("17 Seconds")
Thanksgiving
Edit
On Thanksgiving, Dr. Kent worked as a temp attending at Seattle Grace. He was said to be from Mercy West. ("Thanks for the Memories")
Car Accident
Edit
An intern from Mercy West named Marshall was admitted after causing an accident. ("Damage Case")
George's Resident Application
Edit
George O'Malley applied to become a resident at Mercy West. He was accepted pending the result of his intern examination. However, he failed and instead came back to work at Seattle Grace.
Hiring Callie
Edit
Callie Torres left Seattle Grace to work at Mercy West after Richard Webber was unable to promote her to attending. Webber was later admitted to the Mercy West ER after being involved in an accident and had an intern, Dr. McKee, as his doctor. Arizona Robbins, backed by Derek Shepherd, referred her patient to Callie at Mercy West to get a 3D MRI after being turned down by Webber several times due to budget cuts. ("Goodbye")
Merger with Seattle Grace
Edit
Despite the rumors that Richard would be leaving Seattle Grace to work at Mercy, he soon revealed that Mercy West and Seattle Grace Hospital would be merging. However, some employees from both Mercy and Grace would be let go. It is not known what happened to Mercy West's facilities.
Notable Staff
Edit
These doctors worked at Mercy West before it merged with Seattle Grace.
Attendings
Edit
Residents
Edit
Notes and Trivia
Edit
Ad blocker interference detected!
Wikia is a free-to-use site that makes money from advertising. We have a modified experience for viewers using ad blockers

Wikia is not accessible if you've made further modifications. Remove the custom ad blocker rule(s) and the page will load as expected.