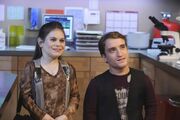 Medical genetics is the specialty of medicine that involves the diagnosis and management of hereditary disorders. Medical genetics differs from Human genetics in that human genetics is a field of scientific research that may or may not apply to medicine, but medical genetics refers to the application of genetics to medical care. For example, research on the causes and inheritance of genetic disorders would be considered within both human genetics and medical genetics, while the diagnosis, management, and counseling of individuals with genetic disorders would be considered part of medical genetics. In contrast, the study of typically non-medical phenotypes such as the genetics of eye color would be considered part of human genetics, but not necessarily relevant to medical genetics (except in situations such as albinism). Genetic medicine is a newer term for medical genetics and incorporates areas such as gene therapy, personalized medicine, and the rapidly emerging new medical specialty, Predictive Medicine.
Notable Medical Geneticists
Edit
Ad blocker interference detected!
Wikia is a free-to-use site that makes money from advertising. We have a modified experience for viewers using ad blockers

Wikia is not accessible if you've made further modifications. Remove the custom ad blocker rule(s) and the page will load as expected.