Lauren Boswell
Biographical information




Status

Alive

Title(s)

M.D., F.A.C.S.

Professional Information
Profession
Character information
First appearance
Last appearance
Seasons
Portrayed By
.
"You are allowed to lose a little bit of control."
—Lauren Boswell
Lauren Boswell is a craniofacial surgeon flown in for a special case. When she's not working, she enjoys flirting with Dr. Arizona Robbins.
History
Arrival in Seattle
Dr. Lauren Boswell was first seen at the coffee cart in the hospital. Arizona accidentally took Lauren's coffee as she didn't look up while taking it. However, Lauren did notice it and took Arizona's coffee. After flirting briefly with Arizona, Lauren left with Arizona's coffee.
Seducing Arizona
Sleeping with Arizona
After the storm ended, the airport reopened and Jackson put her in a cab so she could catch her plane. ("Seal Our Fate")
Personality
During her brief time at Grey Sloan Memorial, she displayed a playful, flirty disposition, openly flirting with and seducing Arizona. She also seems to have an amoral side as she continued to seduce and eventually have sex with Arizona, despite knowing she had a wife and a family and showed no sign of regret when caught.
Relationships
Romantic
When she arrived at Grey Sloan Memorial Hospital, she instantly started flirting and hitting on Arizona, even though she knew Arizona is married to Callie and they have a child together. After the surgery on Tyler is completed, she asks Arizona to show her an on call room. She and Arizona have sex. Afterward, we saw Arizona quickly dress and exit the on call room. After a stressful day in the NICU, Lauren told Arizona she had feelings for her, but Arizona told Lauren that she had made a mistake. However, when Callie finds them, she sees Arizona's wedding ring pinned to the scrub top Lauren is wearing, indicating that they had accidentally traded tops, so she figures out that they slept together.
Career
Dr. Lauren Boswell is a board certified plastic surgeon specializing in craniofacial surgery. She is considered one of the best in her field, as she flies around the world to assist other surgeons.
She acted as a consulting surgeon on a pediatric plastic surgery case at Grey Sloan Memorial Hospital, assisting Dr. Arizona Robbins and Dr. Jackson Avery.
Notes and Trivia
Gallery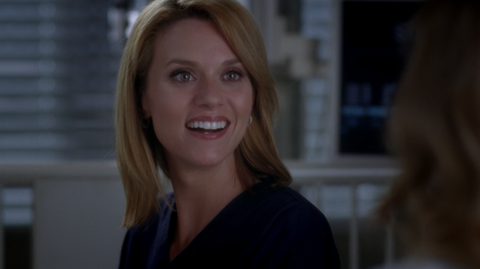 Appearances