Kung Fu Fighting
Talk

0
1,444pages on
this wiki
Kung Fu Fighting
Season 4, episode 6
George is a girl's proxy in a contest over a wedding dress.
Episode Information
Airdate

November 1, 2007

Written by
Directed by
Episode Guide
Previous
Next
.
"There's this thing about being a surgeon. Maybe it's pride or maybe it's just about being tough. But a true surgeon never admits they need help unless absolutely necessary. Surgeons don't need to ask for help because they're tougher than that. Surgeons are cowboys. Rough around the edges. Hardcore. At least, that's what they want you to think. Deep down, everyone wants to believe they can be hardcore. But being hardcore isn't just about being tough - it's about acceptance. Sometimes you have to give yourself permission to not be hardcore for once. You don't have to be tough every minute of every day. It's okay to let down your guard. In fact, there are moments when it's the best thing you can possibly do - as long as you choose your moments wisely."
Kung Fu Fighting is the sixth episode of the fourth season and the 67th overall episode of Grey's Anatomy.
Short Summary
Edit
A man survives a parachute accident without serious injury, two women refuse treatment because of a wedding contest, and Cristina and Izzie jockey for inclusion in Hahn's surgeries.
Full Summary
Edit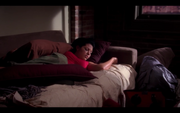 Episode in detail.
Main Cast
Edit
Guest Stars
Edit
Co-Starring
Edit
Medical Notes
Edit
| Song | Performer | Scene |
| --- | --- | --- |
| "Raindrops From The Sun" | Imani Coppola | |
| "Don't Try to Fool Me" | Miss Li | |
| "Say A Lot" | Buddy | |
| "Cheer Me Up Thank You" | New Buffalo | |
| "Let Somebody In" | The Magic Numbers | |
| "Merry Happy" | Kate Nash | |
Notes and Trivia
Edit
This episode's title originated from the song Kung Fu Fighting, originally sung by Carl Douglas.
This episode scored 19.31 million viewers.
---
Lexie: Alex, please tell me that you don't live with Meredith Grey.