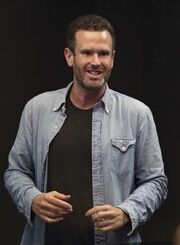 Jesse Bochco is a director on Grey's Anatomy.
Agents of S.H.I.E.L.D. (2013-2017)
Murder in the First (2014-2016)
Grey's Anatomy (2014)
Dallas (2012-2014)
Raising the Bar (2008-2009)
Nip/Tuck (2009)
Prison Break (2007-2008)
The Closer (2007)
John from Cincinnati (2007)
Standoff (2007)
Lincoln Heights (2007)
Dirt (2007)
Commander in Chief (2007)
Over There (2005)
NYPD Blue (2002-2005)
Philly (2002)
Directed Episodes
Edit
Grey's Anatomy
Edit
Season 11
External Links
Edit
Ad blocker interference detected!
Wikia is a free-to-use site that makes money from advertising. We have a modified experience for viewers using ad blockers

Wikia is not accessible if you've made further modifications. Remove the custom ad blocker rule(s) and the page will load as expected.