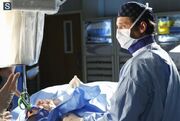 It's a beautiful night/day to save lives was a phrase often uttered by Derek right before a surgery for good luck. Sometimes he adds "Let's have some fun" in the end.
Notes and Trivia
Edit
When performing an appendectomy on Sadie, Lexie said, It's a beautiful day to save lives although technically it was night and they weren't saving a life.
When Derek was to operate on Addison's brother, Archer, Addison became much less worried as soon as he said the phrase.
On his first surgery back from "the woods" in season five, Derek says this phrase hesitantly as he goes to work on Izzie's brain.
Cristina used this phrase when operating on Derek in Death and All His Friends. She also said it sounds better when Derek says it.
On Derek's first surgery back after the plane crash, Callie and the OR staff were nudging Derek to say the phrase. Derek chuckled, then said it.
Ad blocker interference detected!
Wikia is a free-to-use site that makes money from advertising. We have a modified experience for viewers using ad blockers

Wikia is not accessible if you've made further modifications. Remove the custom ad blocker rule(s) and the page will load as expected.