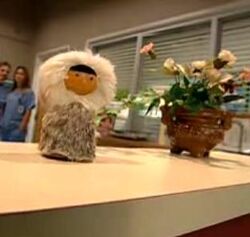 Ipecac is the inuit doll that frequently appeared in early episodes of Grey's Anatomy.
On the second disc of Grey's Anatomy Season One, under the "Bonus Features" menu, there is a hidden red plus sign that can be highlighted above where it says "Bonus Features." To select it, first highlight the "Main Menu" option under "Bonus Features" and then press the up button. This extra bonus clip shows the cast and crew discuss the doll, its name, origins and a plot to kidnap it.
Notes and Trivia
Edit
Inuit dolls are made out of soapstone and bone. Many are clothed with animal fur or skin. Their clothing articulates the traditional style of dress necessary to survive cold winters, wind, and snow.
In the later seasons of the show, Ipecac has disappeared. Prop master Angela Whiting commented on Twitter that this happened because the joke somehow wore off over the years.
Appearances
Edit
| Picture | Episode | Description |
| --- | --- | --- |
| | As We Know It | Richard is on the phone receiving updates from the ORs where the bomb in the body cavity has just been removed, and Ipecac sits on he desk among a collection of pens and office supplies. |
| | A Change is Gonna Come | While looking online for information on the circulatory system of a deer and talking to Bailey, Ipecac sits in front of Izzie. |
Ad blocker interference detected!
Wikia is a free-to-use site that makes money from advertising. We have a modified experience for viewers using ad blockers

Wikia is not accessible if you've made further modifications. Remove the custom ad blocker rule(s) and the page will load as expected.