I Like You So Much Better When You're Naked
Talk

4
1,450pages on
this wiki
I Like You So Much Better When You're Naked
Season 6, episode 12
Lexie has slept with Alex.
Episode Information
Airdate

January 21, 2010

Written by
Directed by
Episode Guide
Previous
Next
.
"Number one rule of surgery is limit exposure. Keep your hands clean, your incisions small, and your wounds covered. Number two rule of surgery is when rule number one stops working, try something else. Because sometimes you can't limit exposure, sometimes the injury is so bad you have to cut, and cut big. In surgery, the healing process begins with a cut, an incision, the tearing of flesh. We have to damage the healthy flesh in order to expose the unhealthy. It feels cruel and against common sense, but it works. You risk exposure for the sake of healing, and when it's over, once the incision has been closed, you wait. You wait and hope that your patient will heal. That you haven't in fact, just made everything worse."
I Like You So Much Better When You're Naked is the twelfth episode of the sixth season and the 114th overall episode of Grey's Anatomy.
Short Summary
Edit
After learning of Richard's drinking problem, Derek confronts him for the sake of his friend and the hospital, Izzie returns, hoping to reconcile with Alex, and tensions run high between Teddy, Cristina and Owen in the aftermath of Cristina's startling confession.
Full Summary
Edit
Episode in detail.
Main Cast
Edit
Guest Stars
Edit
Co-Starring
Edit
Medical Notes
Edit
Song
Performer
Scene
"Everybody"
Ingrid Michaelson

The episode begins.
Bailey explains the procedure she is doing in the O.R. while the gallery is filled with doctors observing.
Cristina and Teddy talk in the gallery about what Cristina said.
Music fades away and we see Meredith and Derek fighting in Meredith's house.

"Something Bigger, Something Better"
Amanda Blank
"Oh Dear"
Brandi Carlile

Alex tells Izzie that he deserves better and lets Izzie go.

"Your Side Now"
Trent Dabbs
"Better"
Matthew Mayfield

Mark and Lexie talk outside the hospital. He walks away.
Izzie packs her stuff and is leaving. Meredith tries to talk her to stay.
Arizona lies down next to Callie, even though Callie has the chickenpox.
Meredith and Derek are in their bed, talking about choosing ambition over love.
Notes and Trivia
Edit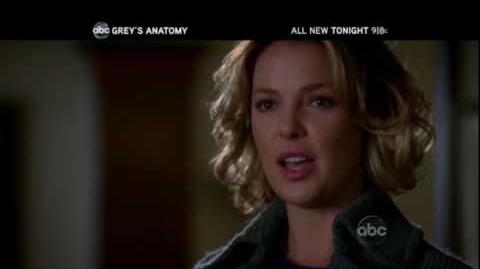 This episode's title originated from the song I Like You So Much Better When You're Naked, originally sung by Ida Maria.
This episode scored 12.70 million viewers.
This is the last episode in which Izzie appears.
When Dr. Webber is writing his name on the O.R Board for Bailey's whipple, the camera zooms out so the audience can see the whole O.R Board. And a Ramirez, S. is scheduled to have a Transesophageal Echocardiogram. Ramirez, S. = Sara Ramirez (Callie Torres)
Episode Stills
Edit
Meredith: (catching Alex and Lexie in bed) Izzie leaves and Mark gets a kid, and you two decide the best way to deal is to get drunk and mash your genitals together?
Alex: No freaking way you get to judge us or give relationship advice. Besides you were a total dirty mistress like two weeks ago.
Lexie: Are you calling me a dirty mistress?
Meredith: That was two years ago and his wife didn't have cancer!
Lexie: Because I've been with like six guys in my whole life. Alex and I, we've done it before. I was recycling, it was like good for the environment.
Alex: Izzie's gone. I was horny. She was there.
Lexie: Oh crap, I am a dirty mistress. Oh god, you're gonna tell Derek and then Derek's gonna tell Mark that I'm a whore.
---
---
Cristina: Where have you been? You just disappeared. I left you, like, ten messages. Are you drunk? (Owen grabs her and kisses her, she pulls away) Wait, what? What? What?
Owen: You make me sad. You think that surgery is going to make you feel, you think a successful career is gonna make you happy, you think you know things, you know things and nothing else matters. No one else matters. People do matter. I matter. We...we matter. So you don't get to toss me aside. I won't let you.