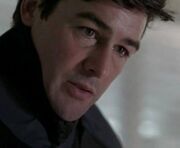 Hospital codes are codes used in hospitals to alert staff to various emergencies. The use of codes is intended to convey essential information quickly and with minimal misunderstanding to staff, while preventing stress and panic among the visitors to the hospital.
The meaning of a specific color code can vary from one hospital to another hospital. At this page, the meanings of the codes at Seattle Grace Hospital (and the hospitals later established in the building) and St. Ambrose Hospital are listed.
Different Codes
Edit
Code Black
Edit
Code black means that there is a bomb inside the hospital.
Occurrences
Edit
Code Blue
Edit
Code blue indicates that a patient requires resuscitation or is otherwise in need of immediate medical attention, most often as the result of a respiratory or cardiac arrest.
Occurrences
Edit
Code Pink
Edit
Code pink is called when a child or infant has gone missing. After this code is called, all entrances and exits of the hospital are locked or guarded until the entire hospital has been searched.
Occurrences
Edit
The Girl with No Name: Bailey ordered a nurse to call code pink when her son was missing from daycare, though the code was called off when Tuck reappeared. It turned out a nurse took him away briefly to take care of his nosebleed.
Code Red is called when there is a fire in the hospital.
Occurrences
Edit
Code Yellow
Edit
Code Yellow is called when there is a large disaster, and many people are injured and coming to the hospital.
Occurrences
Edit
Code Orange
Edit
Code Orange is a code relating to a staff member being in danger.
Occurrences
Edit
Notes and Trivia
Edit
While personnel is supposed to know the codes by heart, the interns weren't aware of the meaning of code black. 
Ad blocker interference detected!
Wikia is a free-to-use site that makes money from advertising. We have a modified experience for viewers using ad blockers

Wikia is not accessible if you've made further modifications. Remove the custom ad blocker rule(s) and the page will load as expected.