Hook, Line and Sinner
Talk

0
1,450pages on
this wiki
Hook, Line and Sinner
Season 6, episode 20
Teddy, Owen, Derek, and Meredith work together on a trauma patient.
Episode Information
Airdate

April 29, 2010

Written by
Directed by
Episode Guide
Previous
Next
.
"We're doctors - we're trained to care for human beings and we're pretty sure we know what to look for. Cuts, infection, genetic mutation. As doctors we have an arsenal of weapons after any. Antibiotics to kill infections. Narcotics to fight pain. Scalpels and retractors to remove tumours and cancers - to eradicate the threat. But just the physical threat, for every other kind - you are on your own."
Hook, Line and Sinner is the twentieth episode of the sixth season and the 122nd overall episode of Grey's Anatomy.
Short Summary
Edit
Sloan returns to Mark's apartment, just as she's going into labor, and Teddy, Mark and the still-fighting Callie and Arizona are there to help with the birth and to get Mark through his grandson's pending adoption. Meanwhile Teddy sees Derek's invitation to illustrious cardiothoracic surgeon Tom Evans' as a threat to her future employment at the hospital, and the team work on a crab boat captain who has been stabbed with a giant shark hook.
Full Summary
Edit
Episode in detail.
Main Cast
Edit
Guest Stars
Edit
Co-Starring
Edit
Medical Notes
Edit
| Song | Performer | Scene |
| --- | --- | --- |
| "Traveler's Song" | The Future of Forestry | |
| "Scattered Diamonds" | Hungry Kids of Hungary | |
| "Everybody Loves you" | Jenn Grant | |
| "Sunset & Echo" | Correatown | |
| "Trapped in a New Scene" | Octoberman | |
Notes and Trivia
Edit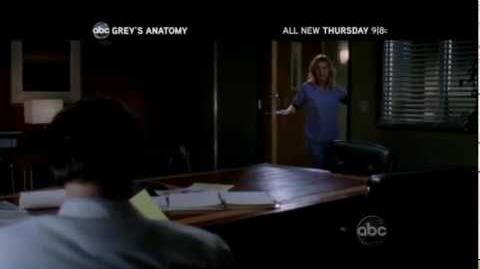 This episode's title originated from the song Hook, Line and Sinner, originally sung by Texas in July.
This episode scored 10.47 million viewers.
When Meredith, Alex and Cristina are talking in the cafeteria, Meredith's yogurt moves from her hand to the table and back to her hands between shots.
Episode Stills
Edit
Callie: I get it. You watch parents go through horrible, unimaginable pain every day. And you went through horrible, unimaginable pain when you lost your brother and your parents never got over it. But if we had a baby- our baby's not gonna be one of those kids in your NICU. Our baby won't be your brother. I mean, knock on wood, but- Do you know how happy our baby would be?
Arizona: I'm not broken. My lack of wanting to have a baby is not some pathology that you can pat yourself on the back for having diagnosed. I like my life, the way that it is. I thought I liked it with you in it. I hope I'm not wrong.