Harper Avery Award
Talk

0
1,635pages on
this wiki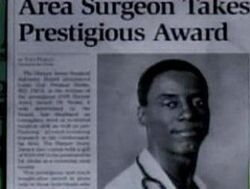 The Harper Avery is a fictional, famous medical award.
Notes and Trivia
Edit
Erica Hahn was one of the considered applicants for the award for 2008 or 2009. Unfortunately for her, her rival Preston Burke won instead. Erica Hahn decided that it was because it was a big men's club, it didn't make sense because she worked harder and published more.
Cristina was a very big help to Preston Burke but Burke did not mention her anywhere in the article.
The Harper Avery was named after Shonda Rhimes' daughter Harper.
When she didn't get her promotion, Callie Torres told the Chief she would win the Harper Avery Award and he would "rue the day."
Dr. Jackson Avery is the grandson of Harper Avery.
Cristina Yang embarrasses herself in front of Harper Avery when he came in after an accident, by misdiagnosing him.
In season 7, Jackson Avery stepped out of the Chief's clinical trial, because he felt that it had a shot to win the award, but he was afraid that if his name was on it, he'd ruin Richard's chances.