Grey's Anatomy and Private Practice Wiki:Vandalism
Talk

0
1,453pages on
this wiki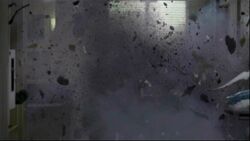 Vandalism is any addition, removal, or change of content made in a deliberate attempt to compromise the integrity of Grey's Anatomy and Private Practice Wiki. Vandalism cannot and will not be tolerated. Common types of vandalism are the addition of obscenities or crude humor, page blanking, and the insertion of nonsense into articles. Any good faith effort to improve the wiki, even if it's misguided or incorrect, is not vandalism. Vandalizing pages is a violation of wiki policy. Vandals will be banned indefinitely at the first violation.
Grey's Anatomy and Private Practice Wiki has a zero-tolerance policy on vandalism, and all wiki contributors and administrators are empowered to revert such edits. All vandals will have their IP addresses blocked from this site for an appropriate period of time to be decided by the responding administrator. The vast majority of vandals are blocked indefinitely.
If you see vandalism
Edit
Regular users can use the "traditional revert" process to get rid of vandalism, and can report it on a special project page:
Revert it: simply look at the vandalized page's history, click to the latest version prior to the vandalism, click to Edit it, and then save it without making any changes. This "revert" will undo only the vandalism and restore the page to its original content.
Report it: post reports on an admin's talk page. They will be banned as soon as possible.
Don't feed the animals
Edit
Vandalism is irritating, especially when you can tell that it's the same vandal who's come back more than once. Please resist the urge to let the vandal know how annoyed you are. Don't write anything in the edit summary except "vandalism", they feed off your distress.
Vandals are looking for two different kinds of satisfaction: the pleasure of defacing our work, and the pleasure of watching us get angry about it. When you revert the vandalism and ignore the vandal, you take all the pleasure away; the vandal will get bored and move on to pulling the legs off of spiders or whatever else they enjoy.
Fixing vandalism
Edit
When you see that a page has been vandalized, please revert the page to the previous version. Reverting the vandalism quickly helps to protect the wiki, and it sends a message to the vandal that his or her efforts have been wasted.
Click the "history" tag on the page, and you'll see a list of all of the previous versions of the page.
You can see any version by clicking on the date. Click on the most recent version before the vandalism.
Click on "edit", and you'll see a regular edit page, plus a warning that says that you're editing an out-of-date revision of the page.
Hit save, and the unvandalized version will become the current version of the page again.
Check the vandal's contribution history
Edit
It can also be helpful to click on the vandal's IP address or username to see their contribution history. They may have vandalized other pages, too, and you can revert those.
If you are considering vandalism
Edit
Those who are considering the vandalism of a wiki should always remember that, no matter how small the vandalism is, or how quick they are at copying and pasting, administrators can undo their edit(s) with the click of a single link. As such, vandals always waste more of their own time, and will never waste any more than a fraction of a second of their "victim's" time. Worse, they lose editing privileges swiftly, and a community which they might have otherwise thrived in will be closed to them permanently.
Their time is much better spent reading or contributing constructively to the encyclopedia, so, reconsider aspiring to be a forgettable, temporary pest, and accept our invitation to register an account and join the community!