Home
Talk

47
4,802pages on
this wiki
Welcome to the Grey's Anatomy and Private Practice Wiki!
Featured Article
Countdown to the next episode!
Only March 5 2015 20:00:00 EST until the next episode!
Main Cast


Your Opinion!
Results of the Previous Poll
Your favorite specialty is Trauma Surgery, with 249 of the 1163 votes!
Cardiothoracic Surgery is next, with 16,51% of the votes!
A close third is Pediatric Surgery, with almost 15%!
Current Poll
What are you most excited about for Season 11?
New to the Wiki?
Please create a login first to keep track of your contributions.
Don't be afraid editing a page. Admins are around to correct possible mistakes.
If you have questions about the wiki or editing, you can ask them to Nerdfightergirl or Tooniee. They'll be happy to help you!
If you have a comment or a question about an article, feel free to bring up on the article's talk page (click on the talk page button next to the edit button at the top of the page). Other users will try to respond as soon as possible.
Please note not to upload strongly edited photos to the articles. Feel free to upload them to your userpage though.
Have fun!
Disclaimer
Please note that this site is not in any way affiliated with ABC or any other persons or organizations responsible for the production of Grey's Anatomy and Private Practice. All trademarks and copyrights belong to their respective owners, and are used here under the terms of Fair Use. All images and videos © copyright of ABC.
Previous Episode
Staring at the End
Season 11, Episode 13
---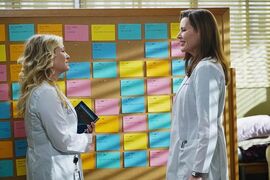 ---
The hospital doctors become fascinated with Dr. Herman's case when Amelia gives a lecture detailing the intricacies of the surgery. Arizona and Herman continue to bond over the amount of cases they are trying to complete before the big surgery. Meanwhile, Bailey brings them the case of a pregnant woman who is close to her heart.
Next Episode
The Distance
Season 11, Episode 14
---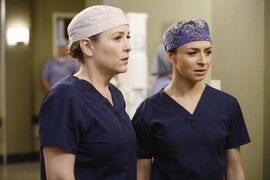 ---
In this Amelia-centric episode, Amelia engages in the surgery of a lifetime as a crowd of doctors look on from the gallery. With Stephanie by her side, she begins operating on Dr. Herman, but quickly realizes it's far more difficult than she anticipated. Meanwhile, Bailey becomes skeptical when Arizona takes on one of Herman's cases.
---
Featured Article
Cristina Yang Tribute
Help us create a fitting tribute for one of TV's most memorable characters!
After 220 episodes, 10 seasons, and 9 years, the time has come to say goodbye to our beloved Cristina Yang. The brilliant cardiothoracic fellow has been on the show since the very first episode and appeared in every episode throughout ten seasons. Many fans are not ready to say goodbye yet and we all wish we'd never have to do it, but the moment is gonna be here soon. To make sure we Cristina is sent off properly, this wikia's admins decided to create a page to honor and pay tribute to one of TV's most memorable characters ever.
The Wiki on Twitter
Affiliates