Home
Talk

36
1,450pages on
this wiki
This wiki was created on November 13, 2006 and is currently run by Nerdfightergirl & Tooniee. It is a free, public, collaborative and interesting project for all to help create a definitive encyclopedia for the television show Grey's Anatomy and its spin-off series, Private Practice.
Your Opinion!
Who's your all time favorite couple?
New to the Wiki?
Please create a login first to keep track of your contributions.
Don't be afraid editing a page. Admins are around to correct possible mistakes.
If you have questions about the wiki or editing, you can ask them to Nerdfightergirl or Tooniee. They'll be happy to help you!
If you have a comment or a question about an article, feel free to bring up on the article's talk page (click on the talk page button next to the edit button at the top of the page). Other users will try to respond as soon as possible.
Please note not to upload strongly edited photos to the articles. Feel free to upload them to your userpage though.
Have fun!
Disclaimer
Please note that this site is not in any way affiliated with ABC or any other persons or organizations responsible for the production of Grey's Anatomy and Private Practice. All trademarks and copyrights belong to their respective owners, and are used here under the terms of Fair Use. All images and videos © copyright of ABC.
Previous Episode
Man on the Moon
Season 10, Episode 11
---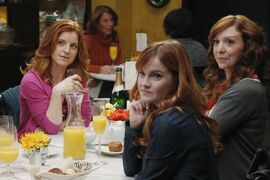 ---
April's sisters arrive to help celebrate April's upcoming nuptials and quickly get on her nerves. Matthew and Jackson are forced to work together when they witness a terrible accident, Callie and Arizona work hard to reestablish their relationship, and Cristina is pressured to live stream an upcoming surgery. Meanwhile, a familiar face returns to the hospital.
Next Episode
Get Up, Stand Up
Season 10, Episode 12
---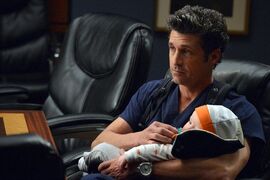 ---
On the day of April's wedding, the Grey Sloan Memorial doctors are all preoccupied with their own drama. Meredith and Cristina continue to argue about their research and careers, Bailey comes clean to Ben about her feelings regarding him moving back to Seattle, and Shane puts himself in a risky situation. Meanwhile, Derek gets a phone call that will change his life.
---
The Wiki on Twitter