WELCOME TO THE
GREY'S ANATOMY UNIVERSE
WIKI
EPISODE GUIDE
LAST EPISODE
NEXT EPISODE

"All of Me"
Season 14, Episode 24
(May 17, 2018)
"With a Wonder and a Wild Desire"
Season 15, Episode 1
(September 27, 2018)
The doctors attend Alex and Jo's wedding, and things do not go as planned. Meanwhile, the stress from the past year has taken a toll on Bailey, and she will re-evaluate some of her decisions.
The doctors at Grey Sloan Memorial vie for a new position. Meredith is seemingly distracted and struggles to stay focused, and Maggie finds herself the keeper of a big secret while Amelia and Owen try to figure out their relationship. Meanwhile, Jo and Alex's honeymoon doesn't go exactly as planned.
---
LAST EPISODE
NEXT EPISODE

"Not Your Hero"
Season 1, Episode 10
(May 17, 2018)
"No Recovery"
Season 2, Episode 1
(October 4, 2018)
Ben reaches a new milestone as a rookie and, as is tradition, receives something from the crew. Chief Ripley holds final interviews for the role of captain but is interrupted when the team is called to a massive skyscraper fire, causing several lives to hang in the balance.
Lives hang in the balance as the members of Station 19 continue to fight a raging inferno inside a skyscraper. Pruitt's health is in grave danger at Grey Sloan. A seasoned firefighter with a mysterious past arrives.
FEATURED ARTICLE
MAIN CAST



EPISODE COMPETITION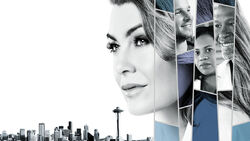 Cast your vote!
Help us decide which episode is our community's favorite of all time!
COUNTDOWN
Only September 27, 2018 19:00:00 EST until the Grey's Anatomy Season 15 premiere followed by the next the Station 19 Season 2 premiere!
In the meanwhile, you can help out by editing the wiki or letting us know more about your experiences here! Please take the time to do so.
AFFILIATES
THE FANDOM APP
Discover our app in the App Store and the Google Play Store!
THE WIKI ON TWITTER
NEW TO THE WIKI
Please create a login first to keep track of your contributions.
Don't be afraid editing a page. Admins are around to correct possible mistakes.
If you have questions about the wiki or editing, you can ask them to Nerdfightergirl or Tooniee. They'll be happy to help you!
If you have a comment or a question about an article, feel free to bring up on the article's talk page (click on the talk page button next to the edit button at the top of the page). Other users will try to respond as soon as possible.
Please note not to upload strongly edited photos to the articles. Feel free to upload them to your userpage though.
Have fun!
RECENT NEWS
Loading RSS data...
DISCLAIMER
Please note that this site is not in any way affiliated with ABC or any other persons or organizations responsible for the production of Grey's Anatomy and Private Practice. All trademarks and copyrights belong to their respective owners, and are used here under the terms of Fair Use. All images and videos © copyright of ABC.