Golden Hour
Talk

0
1,449pages on
this wiki
Golden Hour
Season 7, episode 15
Meredith is running the ER.
Episode Information
Airdate

February 17, 2011

Written by
Directed by
Episode Guide
Previous
Next
.
"How much can you actually accomplish in an hour? Run an errand maybe? Sit in traffic? Get an oil change? When you think about it, an hour isn't very long. 60 minutes. 3,600 seconds. That's it. In medicine, though, an hour is often everything. We call it the golden hour. That magical window of time that can determine whether a patient lives or dies. An hour. One hour can change everything forever. An hour can save your life. An hour can change your mind. Sometimes an hour is just a gift we give ourselves. For some, an hour can mean almost nothing. For others, an hour makes all the difference in the world. But in the end it's still just an hour. One of many. Many more to come. 60 minutes. 3,600 seconds. That's it. And it starts all over again. And who knows what the next hour might hold?"
Golden Hour is the fifteenth episode of the seventh season and the 141st overall episode of Grey's Anatomy.
Short Summary
Edit
Meredith, looking to prove she is Chief Resident material, learns that anything and everything can happen in an hour's time when she steps up to run the ER for a night; meanwhile, Bailey sneaks off with Eli and gets into a little mischief, and everyone is surprised when the Chief's wife, Adele, shows up as one of the ER patients.
Full Summary
Edit
While Meredith's voice over talks about what surgeons can do in one hour, saying they call it the golden hour, Meredith enters the ER and takes a chart.
6 PM
Meredith updates the ER board, and asks Cristina, who's eating potato chips, to help her. Cristina performed 4 back-to-back surgeries, so she's going to continue eat potato chips. When the phone rings, she tells Meredith she might want to pick up the phone. There's a suspected appendicitis, so she asks a nurse to page Robbins. She tells Cristina that she volonteerd to run the ER to prove that she's a good candidate for Chief Resident. Cristina notices Meredith is all perky and cheerful, and Meredith admits that she's like that because she's pumpful of hormones due to the fertility drugs. After joking about big boobs, Cristina tells Meredith that Callie has this thing. She's interrupted by Lexie, who wants to discharge her patient. Before signing off on it, Meredith asks if he's neurologically intact, and Lexie assures that he's just suffering from a migrain. With her eyes, she points towards the patient's "girlfriend from hell". Meredith signs off, and tells Arizona that a kid is coming in. She also tells Owen that OR 5 is ready for him. Cristina then reveals that Callie asked her to be her baby's grandmother. Meredith finds that she has to say no to that.
Meredith enters the trauma room, where Tyler gives her the ECG results. The patient is on the phone with his wife, and he promises that he can barely feel the chest pain and that he'll make it. Meredith introduces herself, and he explains that he has to take his son, who's a big fan, to the basketball game. He tells her that her chest pain is much better. "And you wouldn't just be saying that to get discharged faster?" Meredith asks, and the father says that he got his son tickets to the game for his birthday. Meredith says that they don't take chest pains lightly around her, and she tells Tyler what to do, promising that they'll try to take care of it as quick as possible.
Meredith walks back to the desk, where Cristina asks her why she should say no to Callie. 
Main Cast
Edit
Guest Stars
Edit
Co-Starring
Edit
Medical Notes
Edit
| Song | Performer | Scene |
| --- | --- | --- |
| "Love Like a Sunset Part 1" | Phoenix | |
| "Bourgeois Shangri-La" | Miss Li | |
| "Lose Control" | Back Ted N-Ted | |
Notes and Trivia
Edit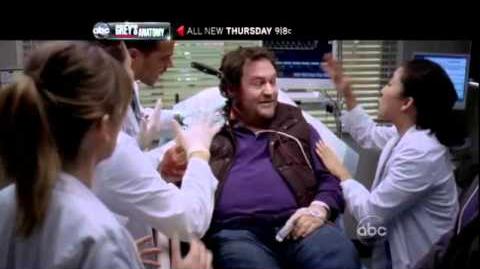 This episode's title originated from the song Golden Hour, originally sung by Midlake.
This episode scored 10.24 million viewers.
This episode takes place in February, as Meredith mentions it's strange that Adele took Christmas decorations down in February.
Episode Stills
Edit
Bailey: I'm taking a nap! Uh, I'm sorry. What I mean to say is that I'm going to use this room to take a nap. Because that's what people do in these rooms when they're tired. Cause I have a child, and a full-time job, and work long hours, so I'm just tired. Just very, very tired.
---
Cristina: I choose potato chips.