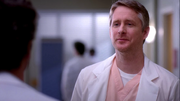 Fellow of the American Academy of Dermatology, often listed as "FAAD," is a post-nominal title used to indicate that qualified dermatologists are members of the American Academy of Dermatology, an American professional organization of dermatologists that is the largest in the world.
Board Certification in dermatology is required to be a member.
Notable Members
Edit
Notes and Trivia
Edit
This title isn't automatically gained and must be applied for once certified by the American Board of Dermatology, post-residency.
Because membership to the American Academy of Dermatology is optional and voluntary, not every dermatologist will have the FAAD title.
Ad blocker interference detected!
Wikia is a free-to-use site that makes money from advertising. We have a modified experience for viewers using ad blockers

Wikia is not accessible if you've made further modifications. Remove the custom ad blocker rule(s) and the page will load as expected.