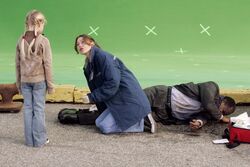 Elliott Bay appeared in season three of Grey's Anatomy.
In the episode Walk on Water, while Dr. Bailey is teaching her interns triage and trauma, the Chief informs the residents that there was been a major incident, with all available Level I Trauma Centers asked to respond. Bailey, with Stevens, O'Malley, Karev, and Grey, heads into the field, later followed by Derek and it is there we discover multiple casualties and learn of a ferry's collision with a container ship.
While at Elliott Bay, Alex found Ava crushed under a pillar, George promises a woman that he will find her son, Izzie performs a burr hole procedure improvised with a power drill while being talked through the procedure by The Chief and Sloan over the phone and Meredith drowns in the bay.
Notes and Trivia
Edit
The background in the image is green as the scene was never really filmed at a bay.
Elliott Bay is a real-life location.
Ad blocker interference detected!
Wikia is a free-to-use site that makes money from advertising. We have a modified experience for viewers using ad blockers

Wikia is not accessible if you've made further modifications. Remove the custom ad blocker rule(s) and the page will load as expected.