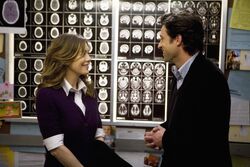 An elevator is a vertical transport vehicle that efficiently moves people or goods between floors of a building.
Notable Occurrences
Edit
Notes and Trivia
Edit
When reporting to work, the surgical staff gets off on the third floor of the elevator.
In Migration, Derek Shepherd says there's plenty of room in the elevators.