Dream a Little Dream of Me, Part 2
Talk

0
1,450pages on
this wiki
Dream a Little Dream of Me, Part 2
Season 5, episode 2
Cristina gets stabbed by an icicle.
Episode Information
Airdate

September 25, 2008

Written by
Directed by
Episode Guide
Previous
Next
.
"Once upon a time, happier ever after. The stories we tell are the stuff of dreams. Fairy tales don't come true. Reality is much stormier. Much murkier. Much scarier. Reality it's so much more interesting than living happily ever after."
Dream a Little Dream of Me, Part 2 is the second episode of the fifth season and the 80th overall episode of Grey's Anatomy.
Short Summary
Edit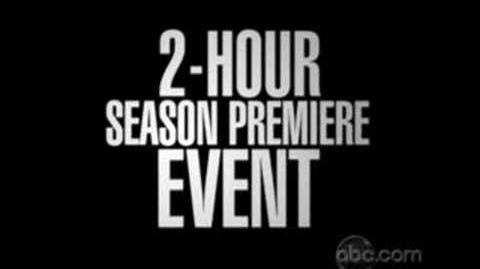 The icicle is removed from Cristina's chest. Owen Hunt kisses her and leaves. The chief becomes fierce and tells everyone that the protocol is changing. Rose transfers to peds and Callie and Erica decide to give their relationship a shot. Meredith and Derek remain on track.
Full Summary
Edit
Episode in detail
Main Cast
Edit
Guest Stars
Edit
Co-Starring
Edit
Uncredited
Edit
Medical Notes
Edit
| Song | Performer | Scene |
| --- | --- | --- |
| "Mistaken Identity" | Steve Reynolds | |
| "Skinny Love" | Bon Iver | |
| "Never Bloom Again" | The Perishers | |
| "And Then You" | Greg Laswell | |
| "Crazy Ever After" | The Rescues | |
| "White Horse" | Taylor Swift | |
| "Another Door Closes" | Jont Whittington | |
Notes and Trivia
Edit
---
Richard: (to everyone) We used to be the best surgical program in the west, an upstart program that no one ever heard of, that blew everyone out of the water. Then overnight, we got old, entrenched and sloppy, just like everybody else. We've been resting on our laurels. You have all been failing...failing to take initiative, failing to ask tough questions, failing to practice your skills, failing to give opportunity to practice skills. And I let it happen. So you have not failed, we have failed. Well, it stops, and it stops now. People sliding over general surgery as though they will never see anything but a heart or a brain through the course of their career, as though blood from the heart doesn't make it's way through the whole body or the nerves don't travel past the brain stem. It's shoddy teaching and it makes for shoddy surgeons. We've failed. Get it? We all have. And it stops now. The surgical training protocol is officially changing, people. The bar has been raised. Consider your on notice.
---