Do the Right Thing is the twentieth episode of the second season and the 29th overall episode of Private Practice.
Short Summary
Edit
Moral ethics poses a problem for all the Oceanside doctors, as Addison and Noah are still struggling with their feelings for each other, but Morgan's condition deteriorates and Noah is not there to support her; Sam is asked to lie in court; Cooper becomes frustrated with a parent who allows her 12 year old daughter to have sex; and Pete is pushed towards the mother of a patient, by none other than the patient himself. Meanwhile, Charlotte begins to see Cooper and Violet's relationship and she and Violet fall out while Dell goes into self-destruct and Naomi tries to be heard, but falls on deaf ears.
Full Summary
Edit
Episode in detail.
Main Cast
Edit
Guest Stars
Edit
Co-Starring
Edit
Medical Notes
Edit
Diagnosis:

Pregnancy
Pulmonary embolism
Treatment:

Bed rest
Cervical cerclage
Defibrillation
Lidocaine
Morgan was still on bed rest during her pregnancy. Addison made a house call to check on her. Addison did the examine. Her cervix had opened and Addison planned a cervical cerclage to close it. While waiting before surgery, Morgan coded. They were able to get her back and then rushed her into surgery to close her cervix.
Sarah, 12, was at the practice for a checkup with Cooper. Her mother asked Cooper if Sarah could see a female doctor because she needed someone to prescribe her birth control. He called in Naomi for the consult. Naomi ran blood work, which revealed that Sarah was pregnant. When they broke the news to Sarah and her mom, her mom tried to pressure her into an abortion, but Sarah decided she didn't want one.
Diagnosis:

Allergies
Acute allergic attack
Treatment:

Milk thistle
Acupuncture
Adrenaline
Ben was being treated by Pete for severe allergies. While at a friend's house, Ben had an acute allergic attack. His mom brought him to the practice, where Pete gave him adrenaline to help him breathe.
Martin Weiser
Edit
Diagnosis:

Chest pains
Hypoxia
Cardiopulmonary arrest
Aspirin allergy
Martin Weiser is a patient who died after being treated by Harold Allen. His family later sued Dr. Allen. Sam testified in the trial as an expert witness. When reviewing the files, Sam noticed that there were indications that the patient was allergic to aspirin. Harold Allen had given the patient aspirin, which is why he hadn't been able to revive him in the ER.
Song
Performer
Scene
"It's Your Thing"
The Isley Brothers

Naomi questions Addison when she says she's making a house call.
She's going to see Morgan.
Noah lets Addison into the house.

"Just Like Heaven"
Katie Melua

Addison and Sam talk about their days.

"I Don't Live in a Dream"
Jackie Greene

Sam tells Dell to straighten himself out.
Violet watches Pete hang out with Ben and his mom.
Cooper goes to leave with Charlotte, but she tells him Violet needs him.
Addison opens the door to see Noah there. They start kissing.
She stops kissing him and closes the door.
Notes and Trivia
Edit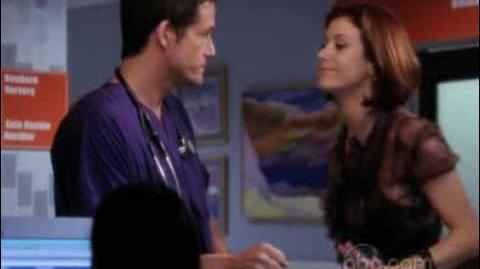 This episode scored 10.12 million viewers.
Idina Menzel, who portays Lisa King in this episode, was married to Taye Diggs at the time that the episode was produced. They have since divorced.
According to Sarah's phone, this episode takes place partially on March 26, 2009.
Episode Stills
Edit
| | |
| --- | --- |
| | A complete overview of this episode's crew can be found here. |
Ad blocker interference detected!
Wikia is a free-to-use site that makes money from advertising. We have a modified experience for viewers using ad blockers

Wikia is not accessible if you've made further modifications. Remove the custom ad blocker rule(s) and the page will load as expected.